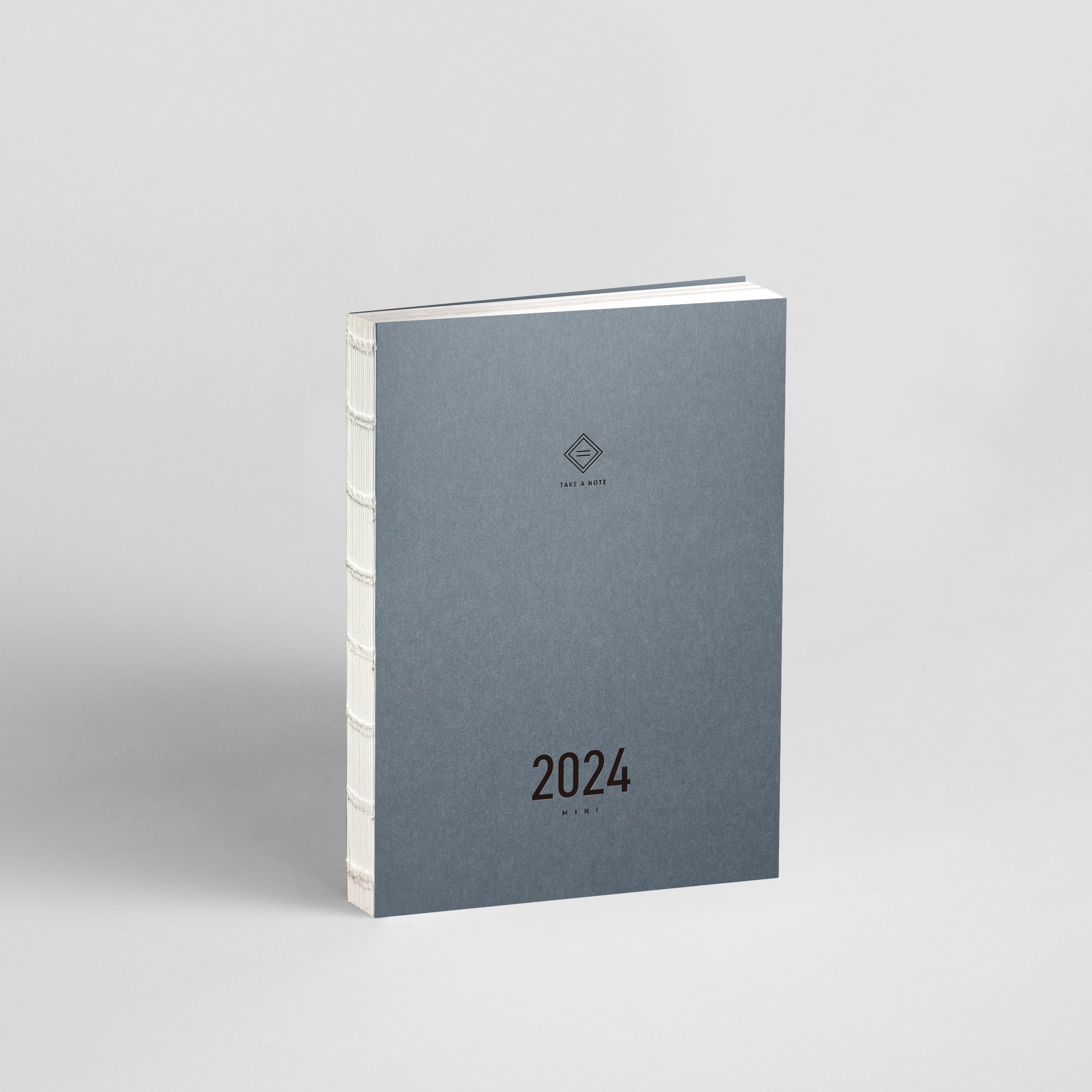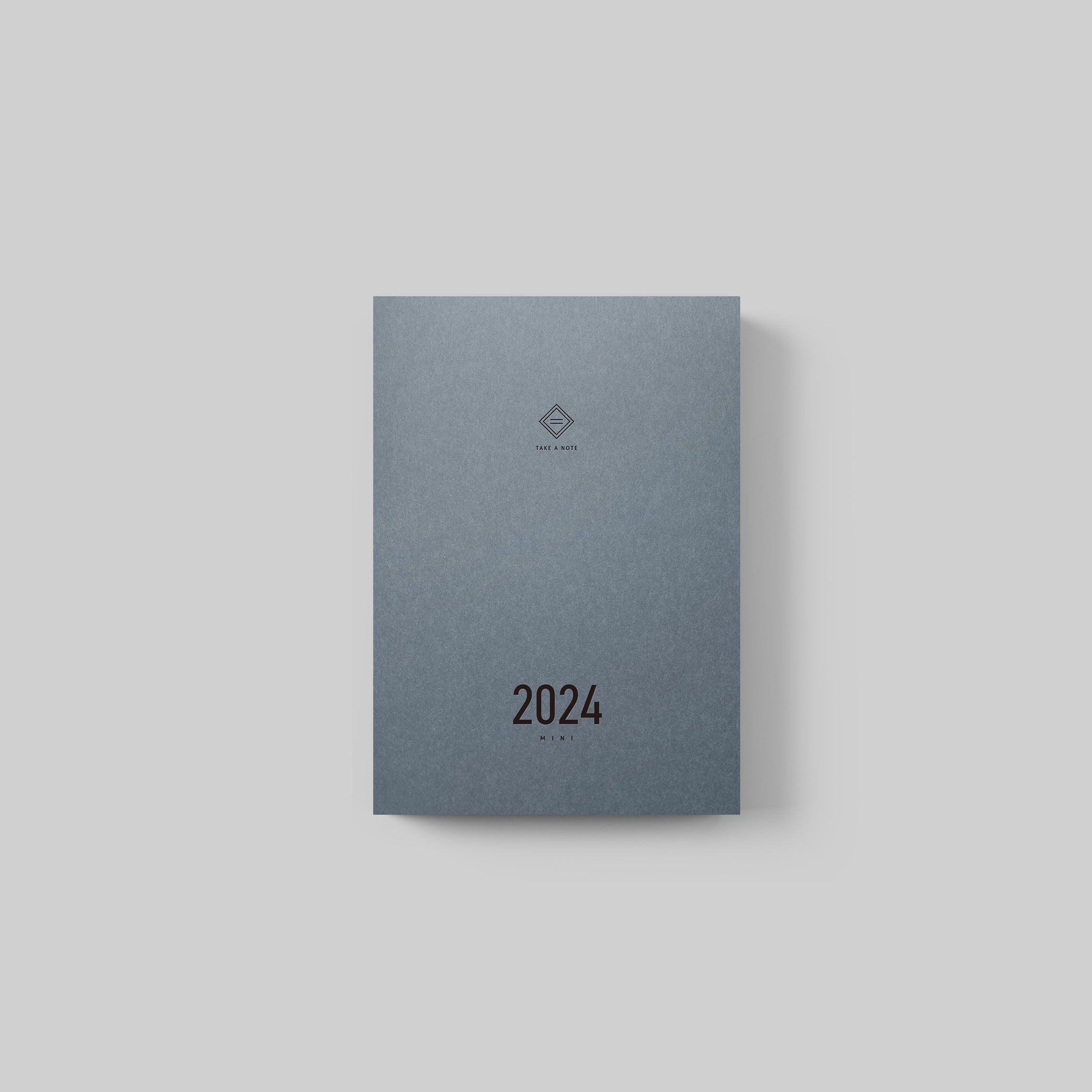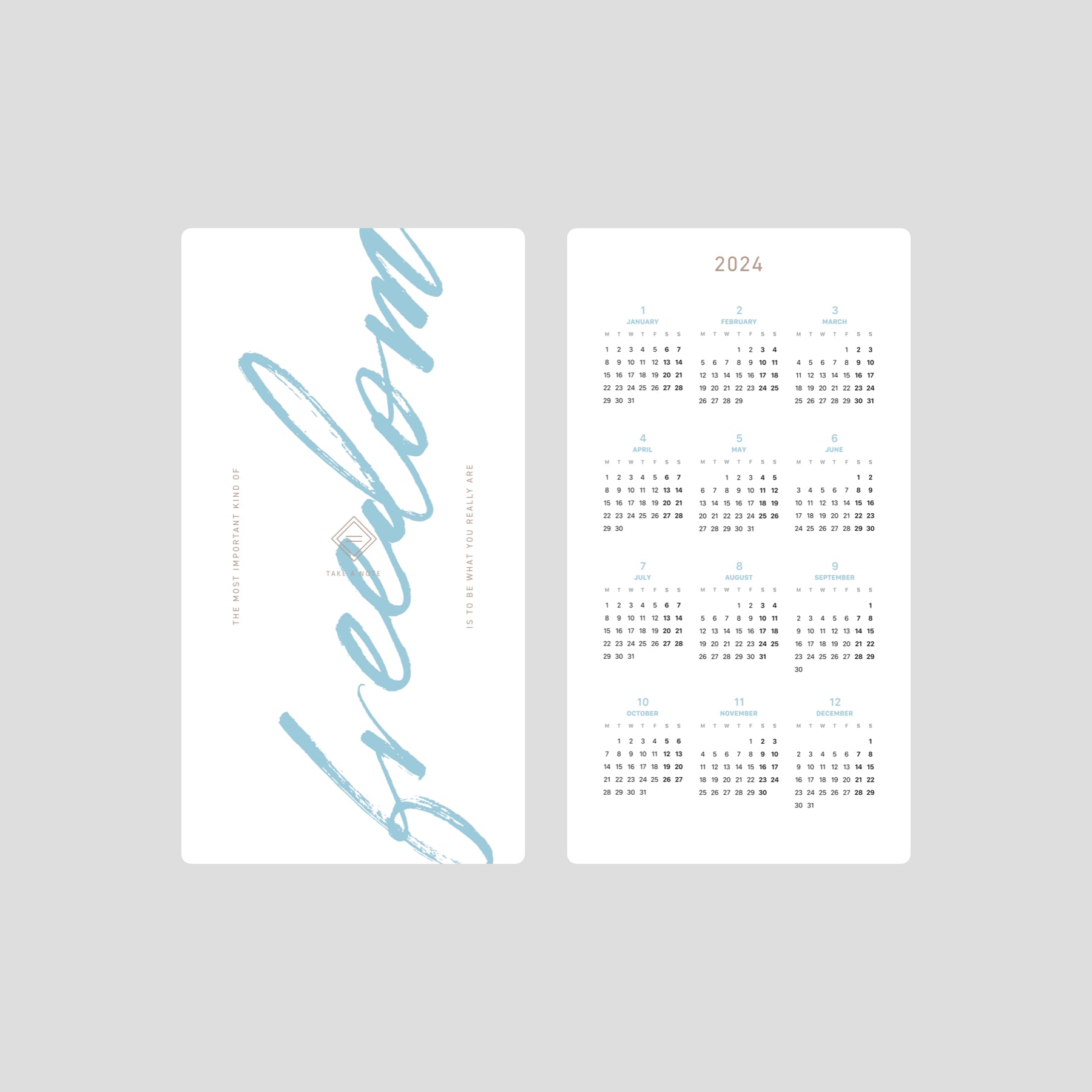 TAKE A NOTE 2024 MINI PLANNER A6
Sale price
$600.00 TWD
Regular price
(/)
Pre-order Period: August 25th - September 30th. (Pre-order special offer has ended)
Shipping will begin on in the order the orders were received.
Pre-order Promotion Notes: The discount code for member points redemption cannot be combined with bundle offers. Only one discount code can be used per single order. To avail the bundle discount, please place your order on the promotion page so that the checkout amount can be accurately discounted.
If there are different shipping dates for pre-ordered items within an order, shipping will occur once all items are available, with the latest shipping date determining the dispatch.
If you wish to receive in-stock items first, please place a separate order for pre-order items.
256 Pages|68gsm Tomoe River Paper|180-degree Flat Laying|A6(10×14.8×1.3cm)|(1P)Opening page、(1P)Yearly Calendar、(1P)Habit Tracking / Horizontal Gantt Chart【2024.01-2024.12】、(4P)Project Planning / Vertical Gantt Chart、(32P)Monthly Plan【2023.12-2025.03】、(212P)Weekly Plan【2024.01-2024.12】、(4P)Grid Note、(1P)Personal Info
台灣地區訂單滿1000元免運(免運門檻即將於預購結束後調漲,敬請把握機會)

若預購品與現貨商品同時結帳將視為預購訂單,待預購商品到貨後一併寄出,若現貨商品有急需,建議與預購商品分開訂購。

Overseas Territories: Products are shipped from Taiwan. We offer shipping methods such as UPS, EMS, E-Packet, etc. Shipping fees will be automatically calculated based on the weight of the items. You can estimate your order's shipping cost on the Cart Page.

[IMPORTANT] Import Duties and Taxes

CUSTOM FEES MAY APPLY
Depending on your country, you may be required to pay customs fees when importing your order from Taiwan. This charge is from your local government, so customers are responsible for paying these fees. 
2024 Version Design Adjustments

Maintaining Taiwan holidays, the language content for the monthly plan will be presented in both Chinese and English, while the weekly plan will be adjusted to display English weekdays.
Inner pages are made of 68gsm white Japanese Tomoe River Paper with a grid size of 3mm.
Exposed spine binding allows the notebook to lie completely flat on a table.
The monthly plan spans 16 months and is consolidated before the weekly plan, providing information about Taiwan holidays, lunar calendar dates, solar terms, and corresponding page numbers for the weekly plan.
The weekly plan consists of two days per page (four pages per week) with an extended vertical timeline. It provides mini calendars, a mini weekly calendar, upper and lower blank grid space on the timeline, lunar calendar information, solar terms, and Taiwan holidays.
Page numbers are included for reference, suitable for use as a bullet journal.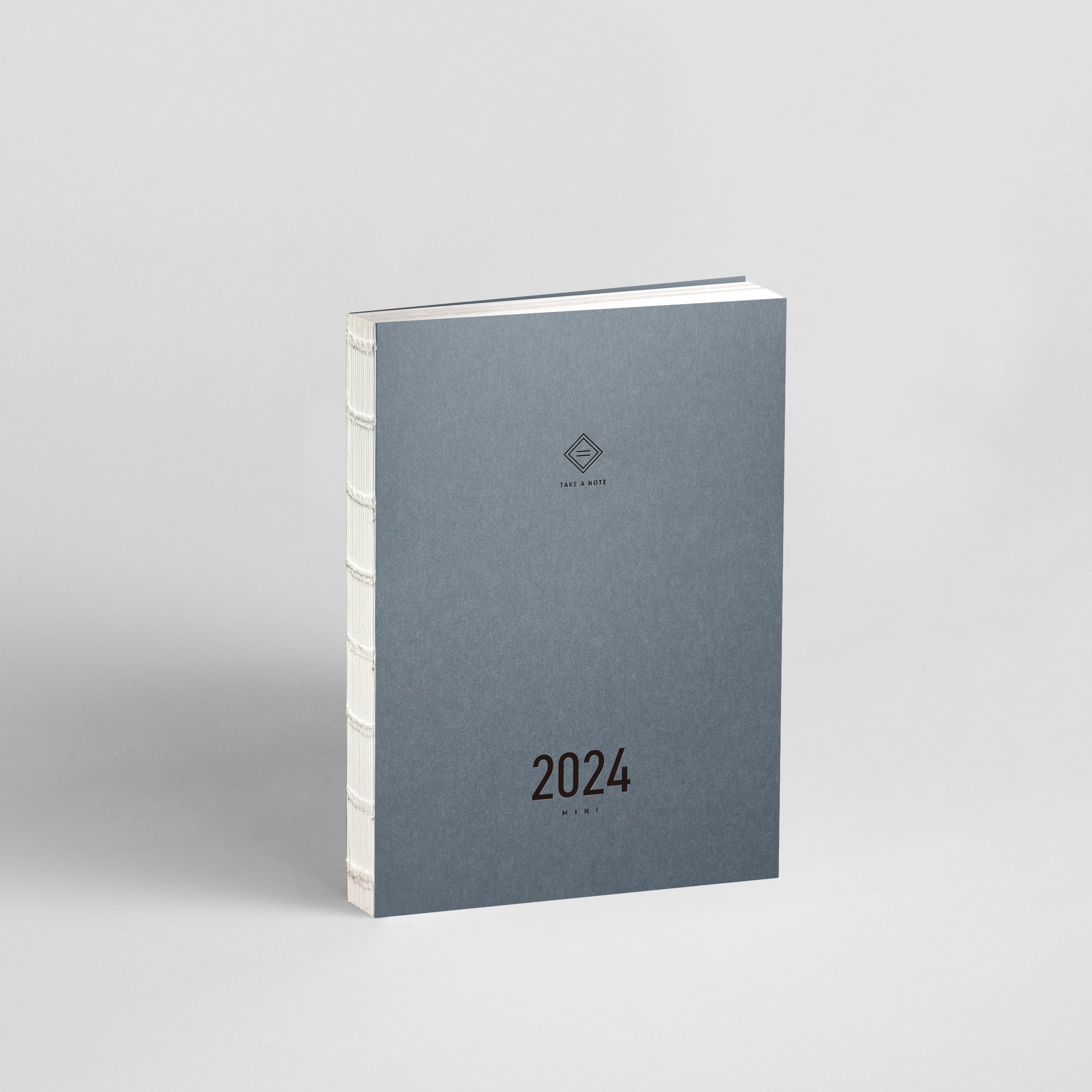 TAKE A NOTE 2024 MINI PLANNER A6
Sale price
$600.00 TWD
Regular price
Choose options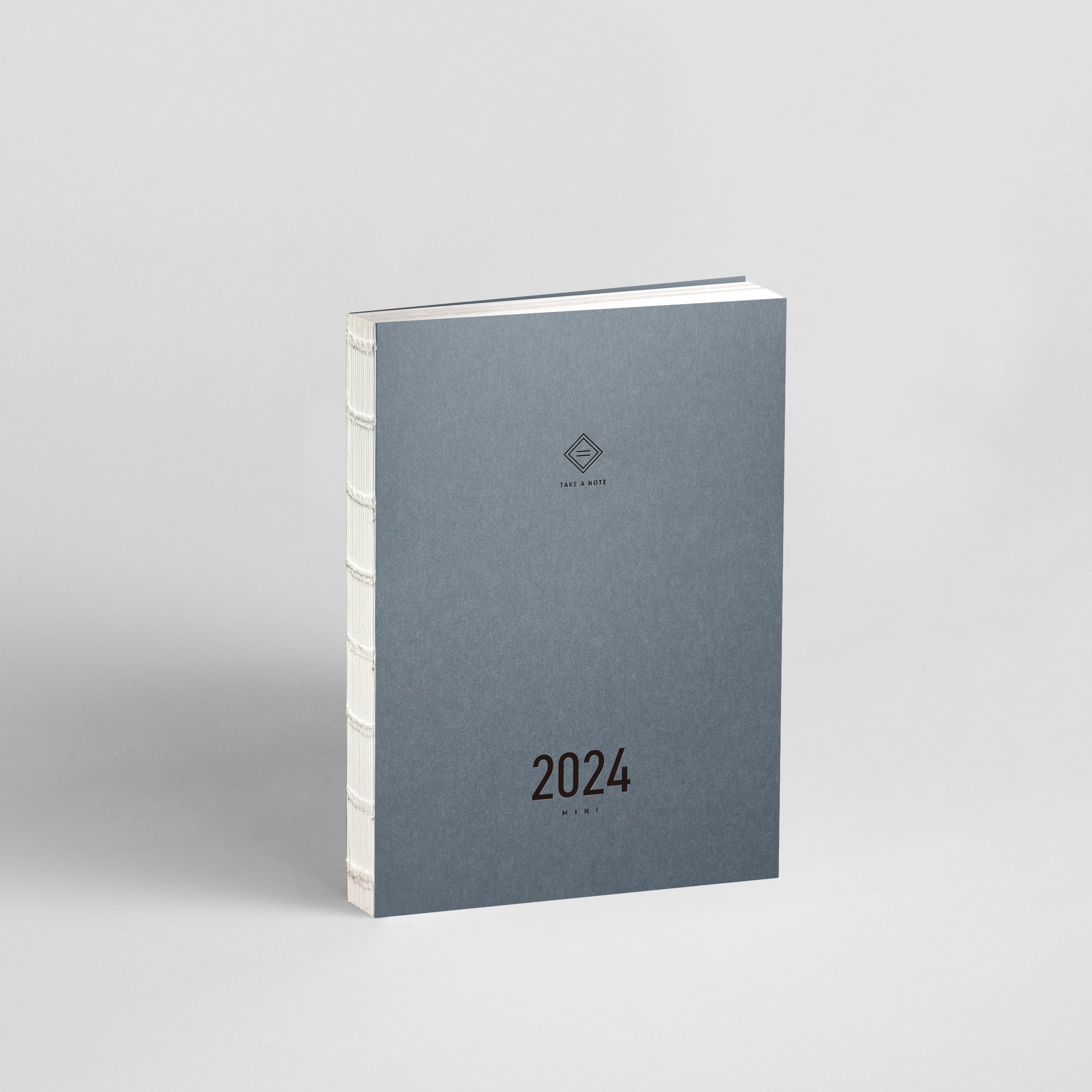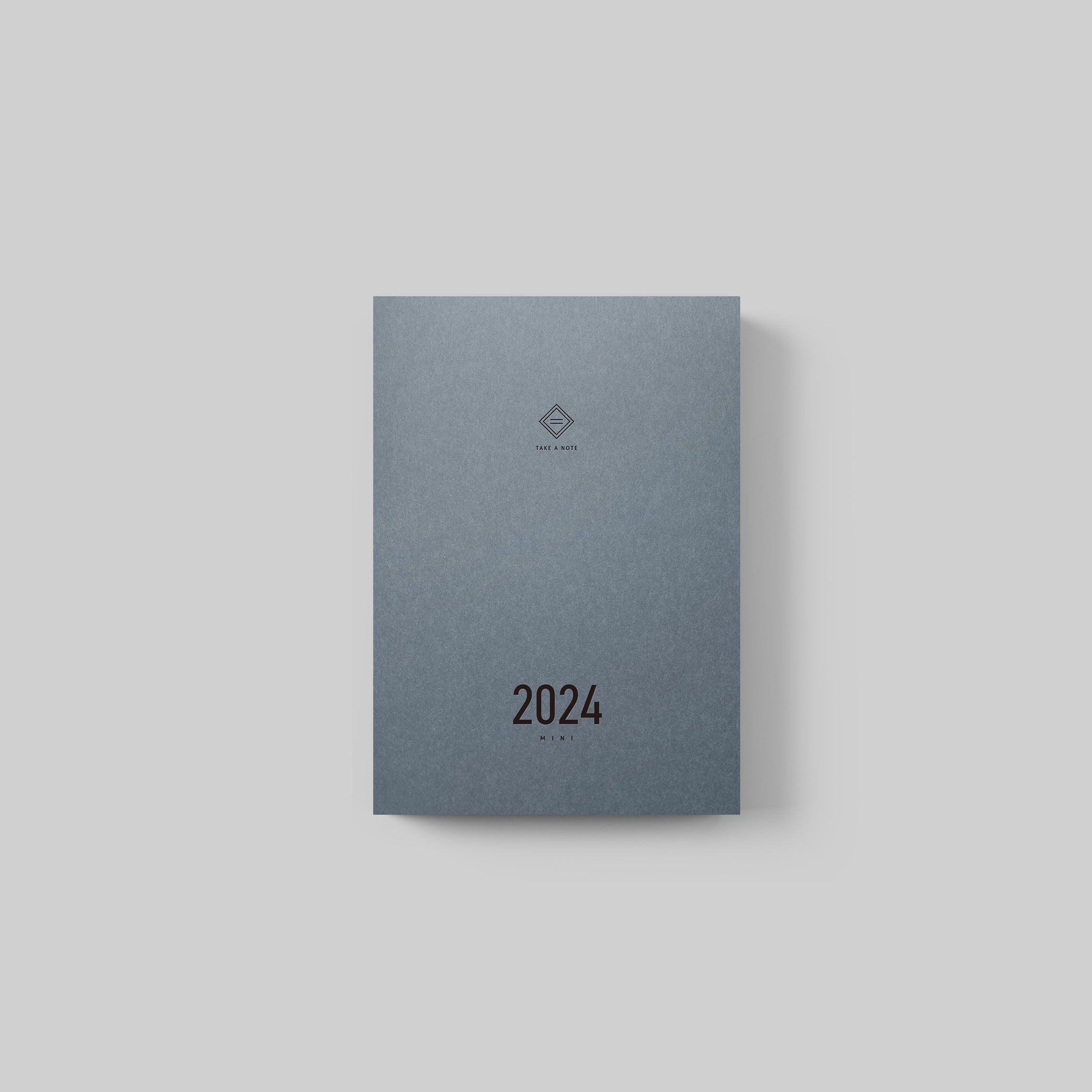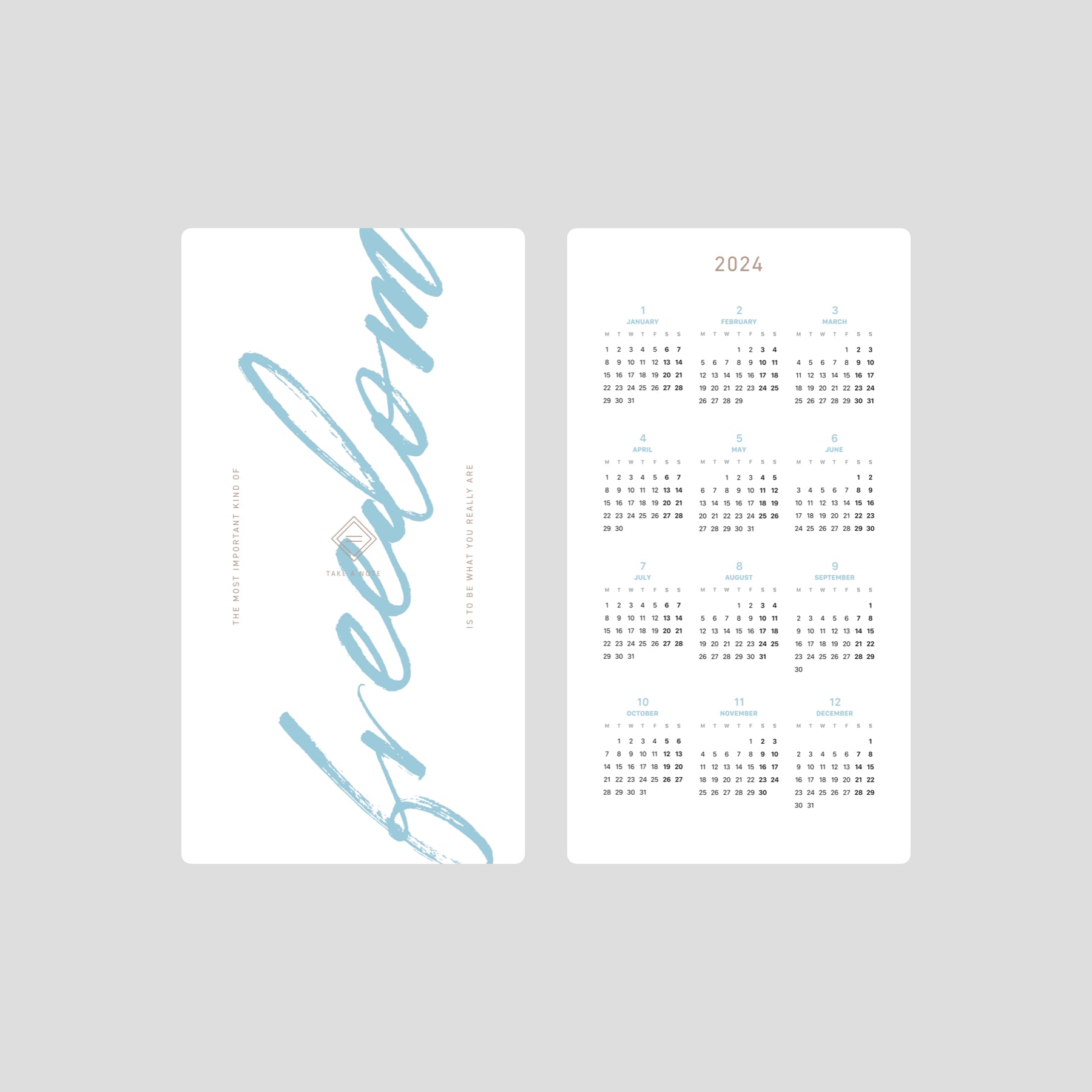 Make your planner uniquely yours
Classic, versatile, minimalist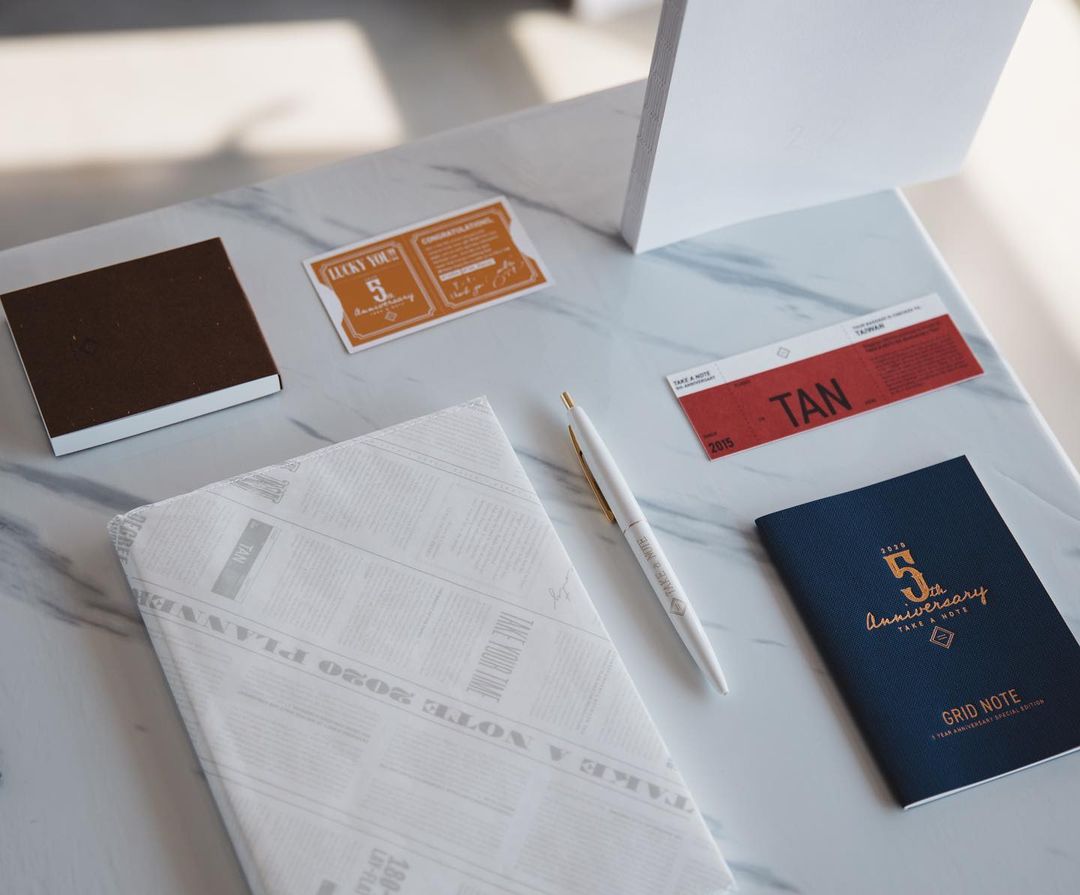 FEATURE
THE FIRST TAIWANESE PLANNER WINNING GOOD DESIGN AWARD
COMMENTS BY THE JUDGES
The versatile planner features pale-colored grid lines, so the users won't find the layout too complicated. Another most-praised feature is that the planner provides a flexible environment, so users can write meticulously to fully use it, or they can easily customize the planner. The planner is also marked with Taiwanese holidays, like those of the lunar calendar, which shows the design has taken users' living environment into consideration.​​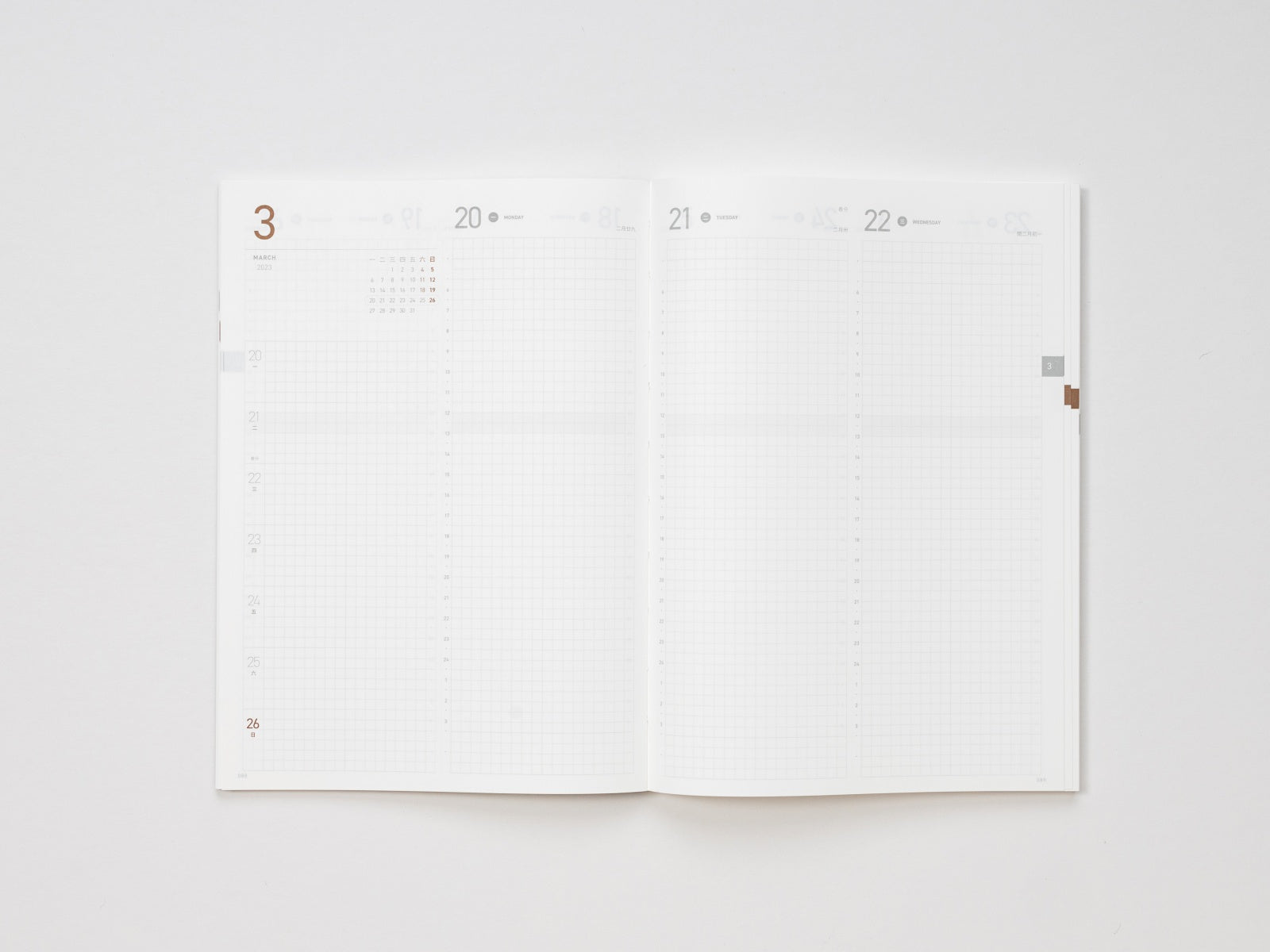 FEATURE
TAKE A NOTE's original weekly plan
Recognized by the Good Design Award judges, this design combines a mini calendar, a mini weekly calendar, a two-day-per-page weekly plan, and a vertical timeline. It incorporates all essential information while maintaining a refreshing and comfortable visual design.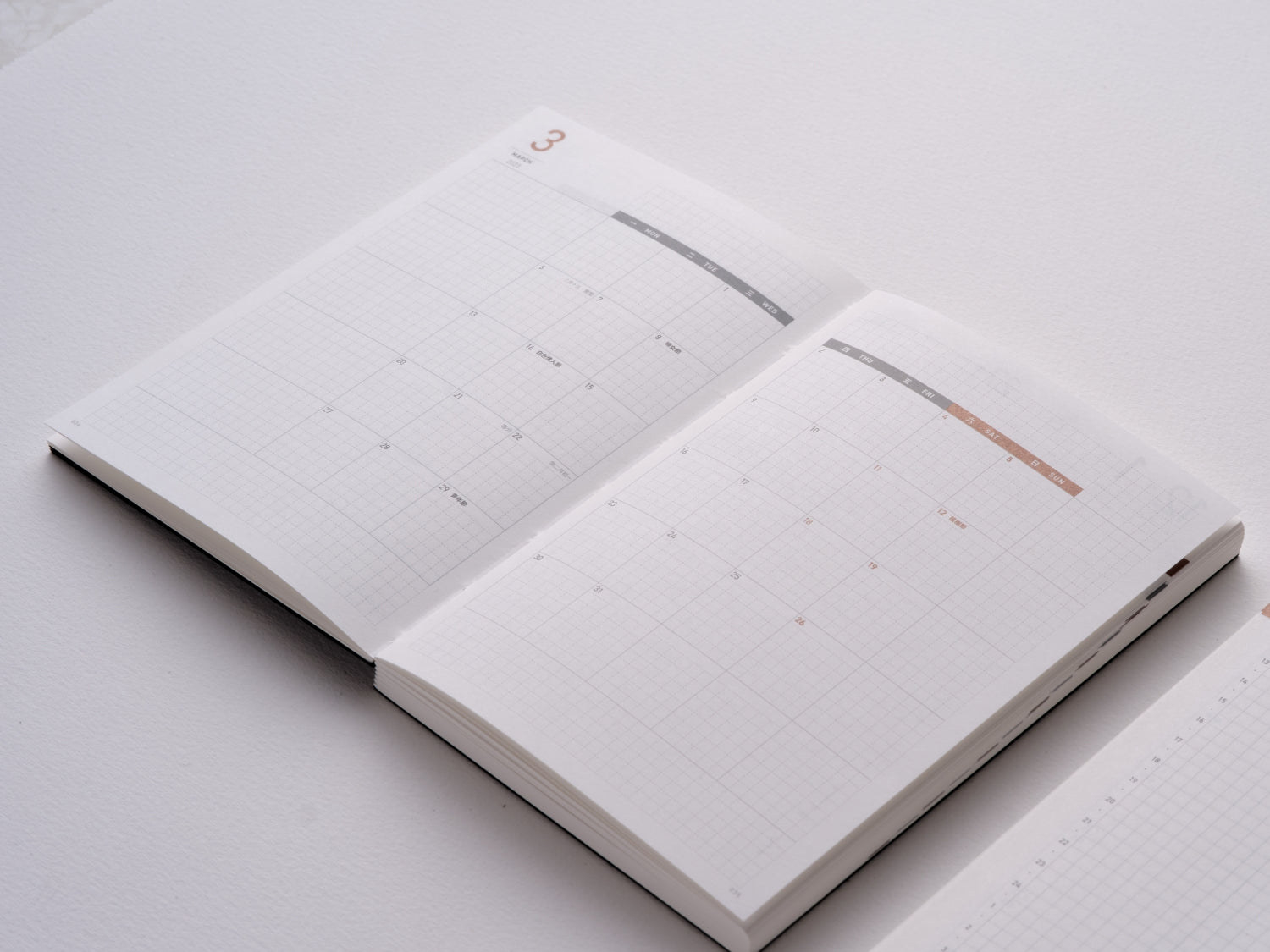 FEATURE
Simple in design, rich in functionality
"Non-intrusive to users", designed minimally while meeting functional requirements. Whether for notes or usage is up to you, providing users with a truly free planner.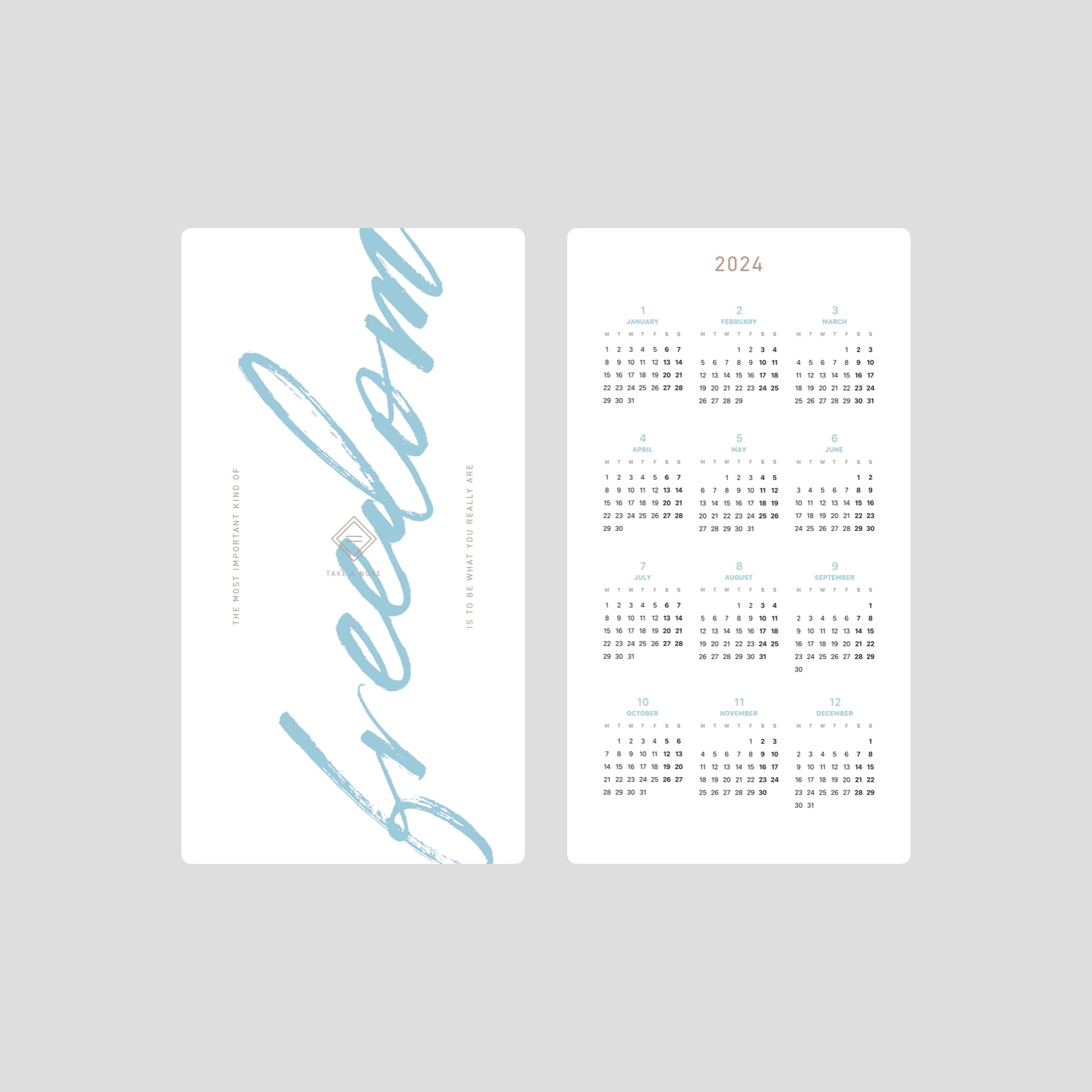 2024 MINI Planner Adjustments
Contents in English, Holidays are Taiwan holidays
For certain pages in the 2024 MINI Dated Planner where only Chinese weekdays are present, they have been adjusted to display both Chinese and English or just English weekdays and their abbreviations.
Essential information for Taiwanese users, such as lunar dates, solar terms, and Taiwan holidays, remains intact, making the A6 dated planner even more versatile!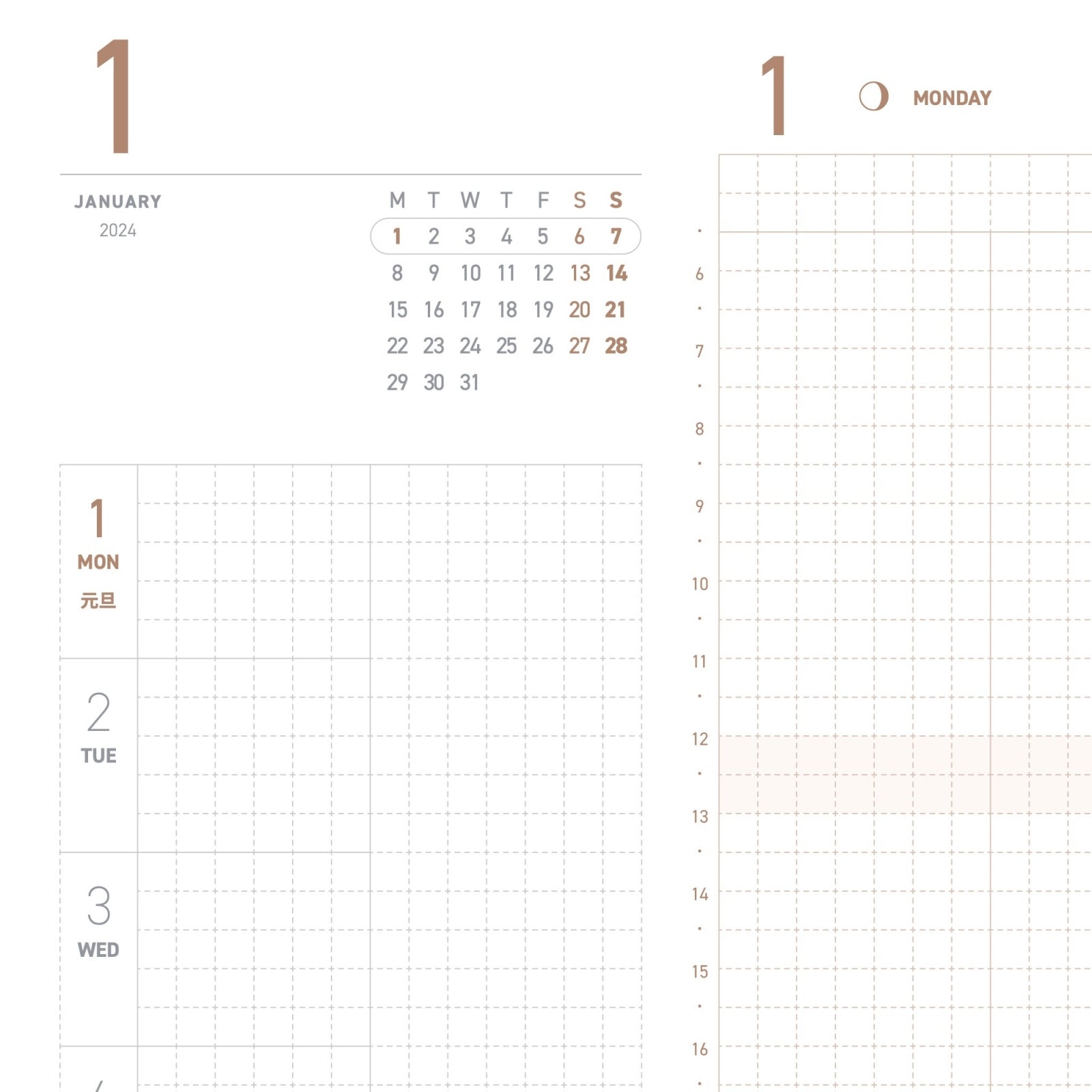 The Chinese weekdays in the mini calendars and mini weekly calendars have been changed to abbreviations in English.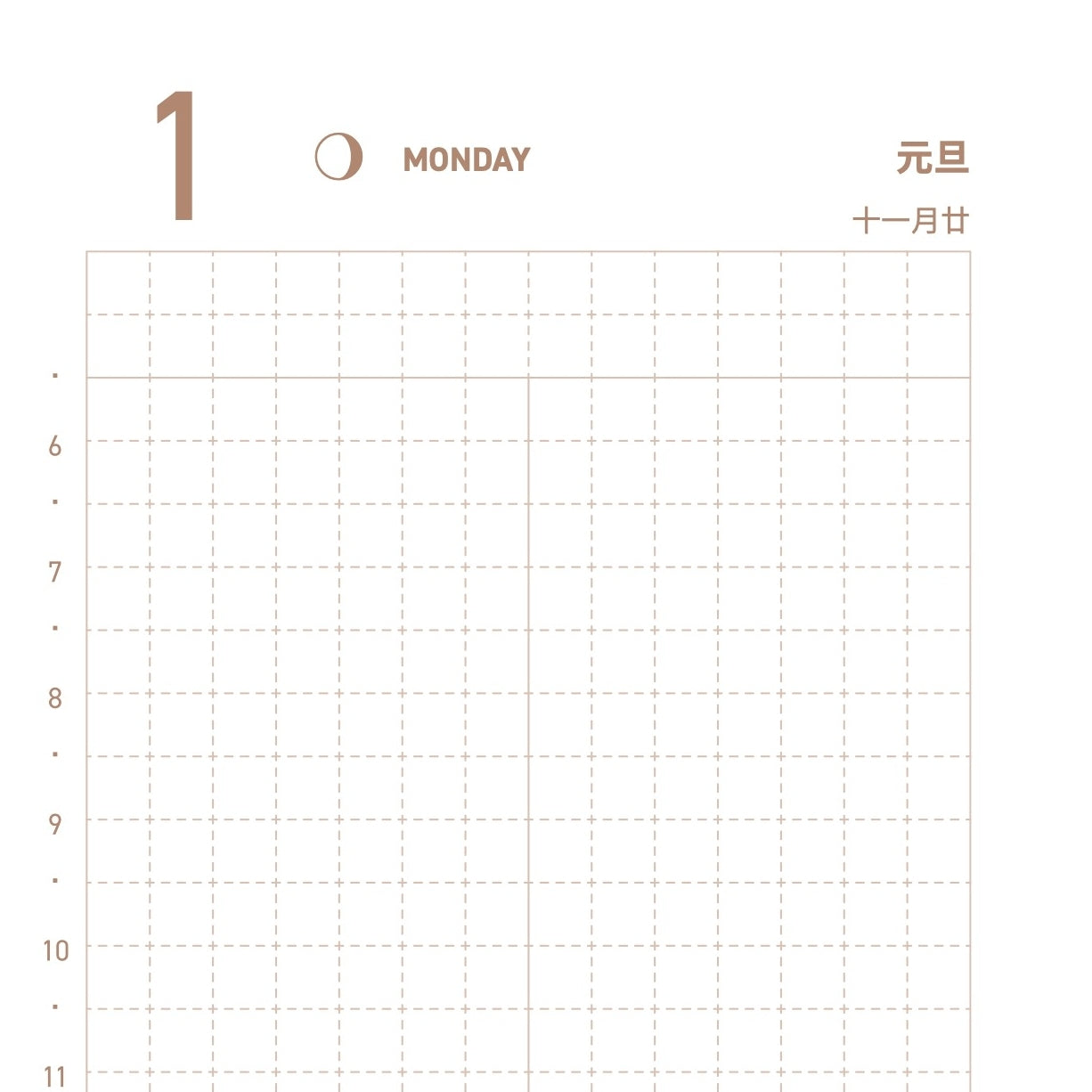 The weekly plan includes information about Taiwan holidays, lunar calendar dates, and festivals. The weekdays are in English.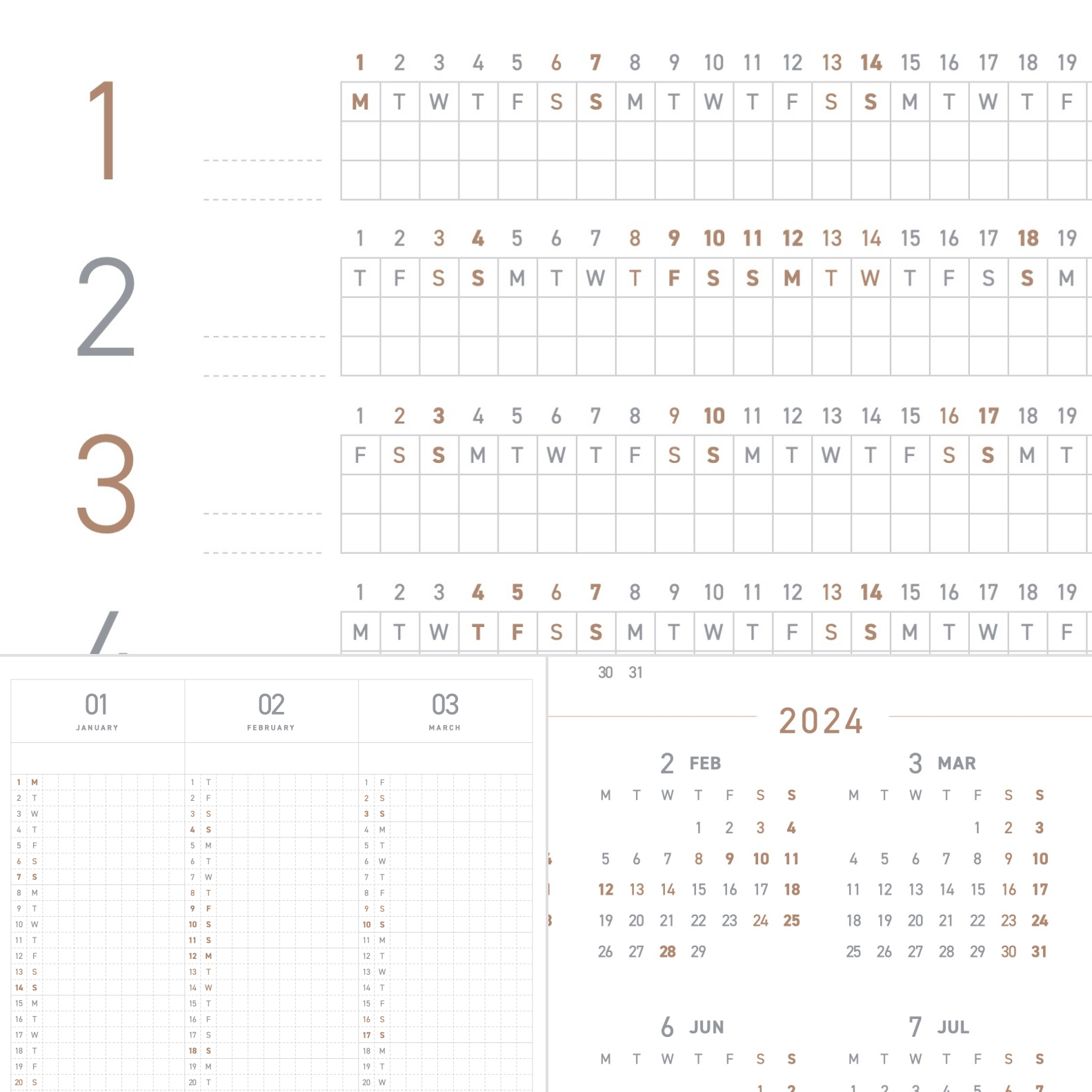 The yearly calendar, horizontal Gantt chart, and project plan have changed Chinese weekdays to English abbreviations.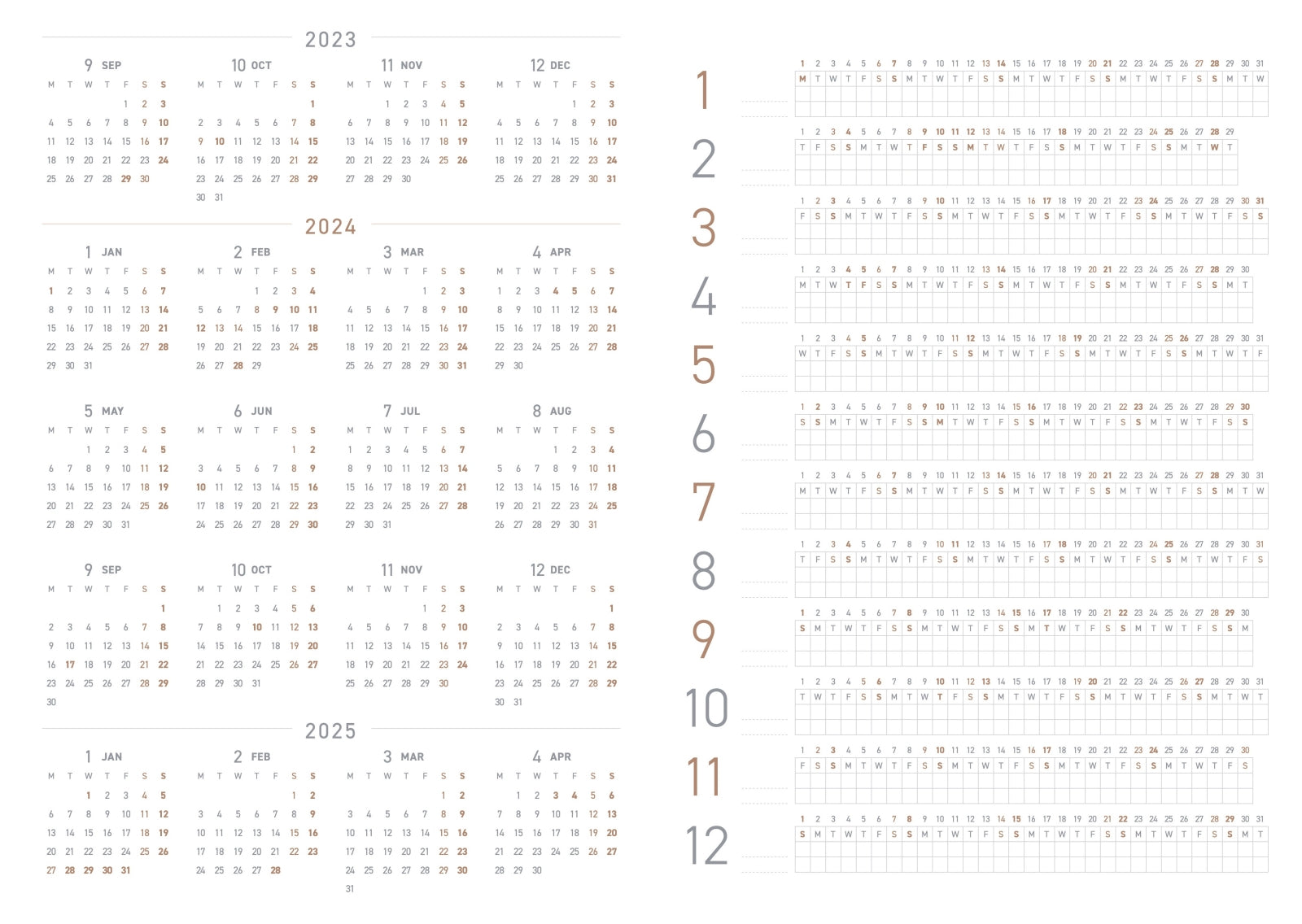 【Yearly Calendar】
A yearly calendar spanning 20 months, usable from the moment you receive the planner until April of the following year.
【Habit Tracking / Horizontal Gantt Chart】
Convenient for planning annual schedules or for use as a habit tracking sheet.
【Project Planning / Vertical Gantt Chart】
A half-year view calendar at a glance, extremely useful for project management. Also suitable for vacation planning, weight management, habit tracking, stock price trend lines, and other purposes.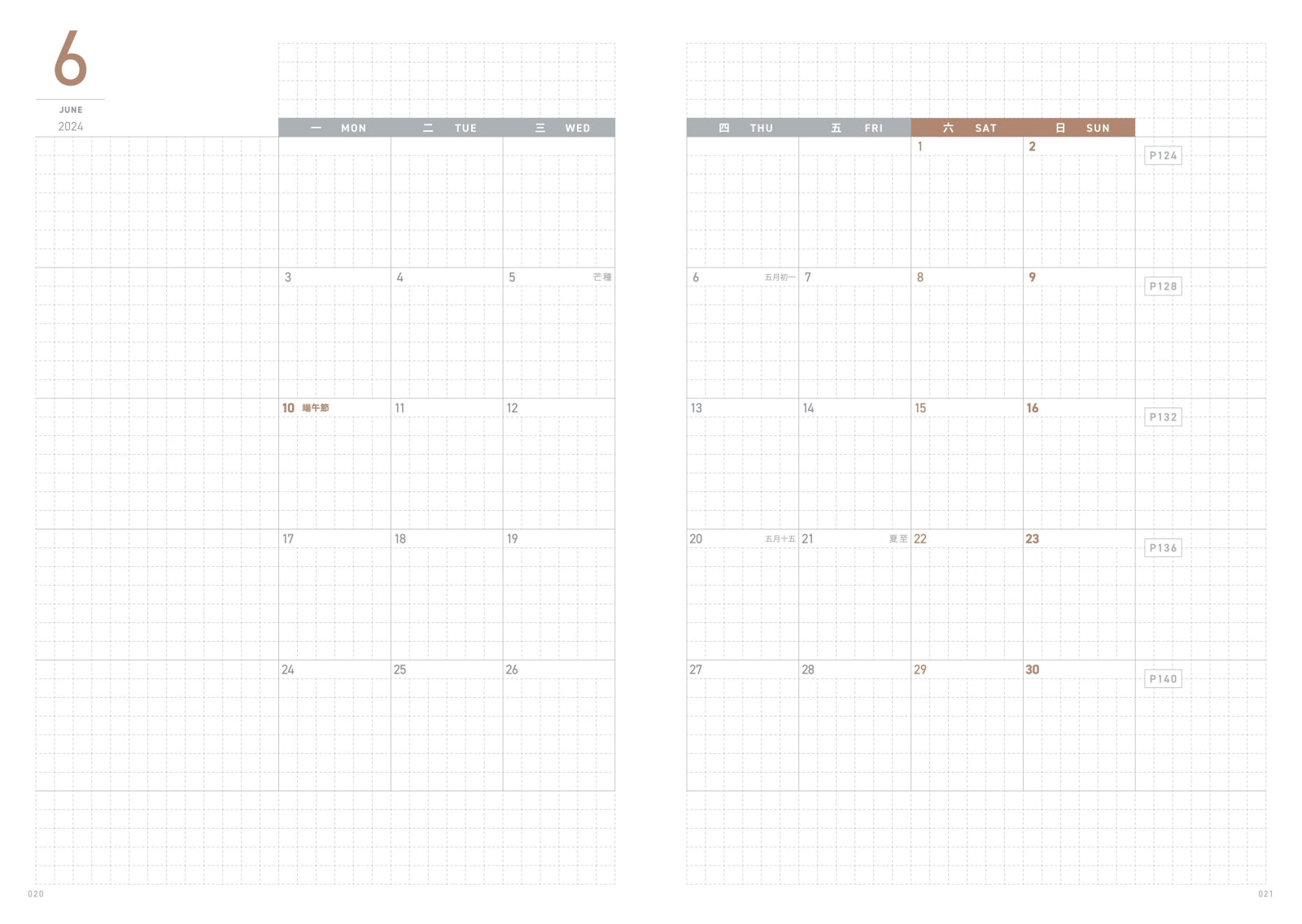 【Monthly Plan】
Rich functional design, suitable for everyone
Distinguish between holidays and workdays with dual colors for a more ceremonial note-taking experience. The 16-month monthly plan extends from this year through next year to March of the year after, making it easier to arrange cross-season and cross-year schedules. Each week is linked to the corresponding weekly plan page number, allowing for quick access to the weekly plan of the current week.
Ample space
Abundant blank space on the left and right sides allows for dividing different sections for various purposes according to note-taking methods.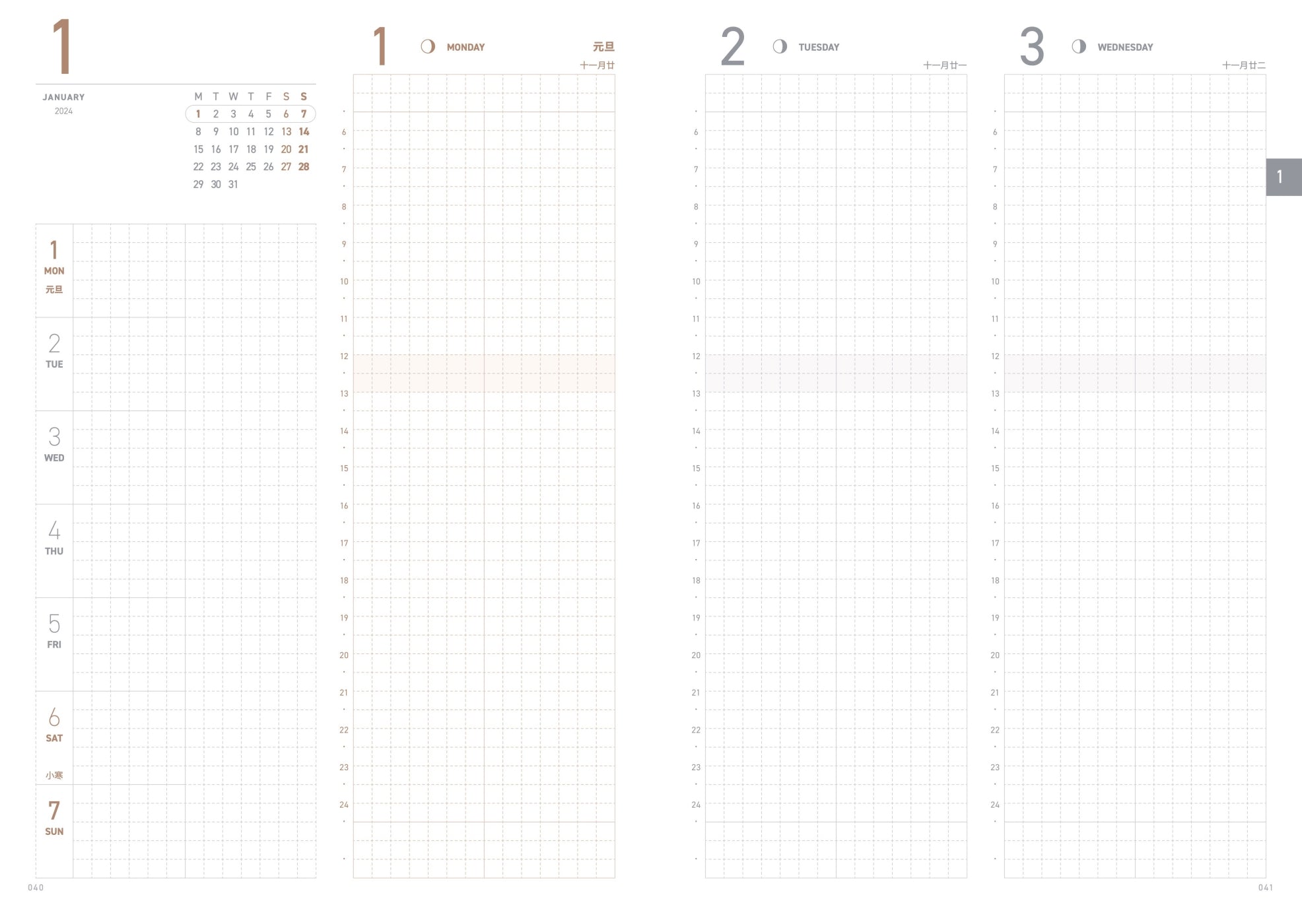 【Weekly Plan】
The combination of a mini calendar, mini weekly calendar, and two-day-per-page vertical timeline remains TAKE A NOTE's most popular original format.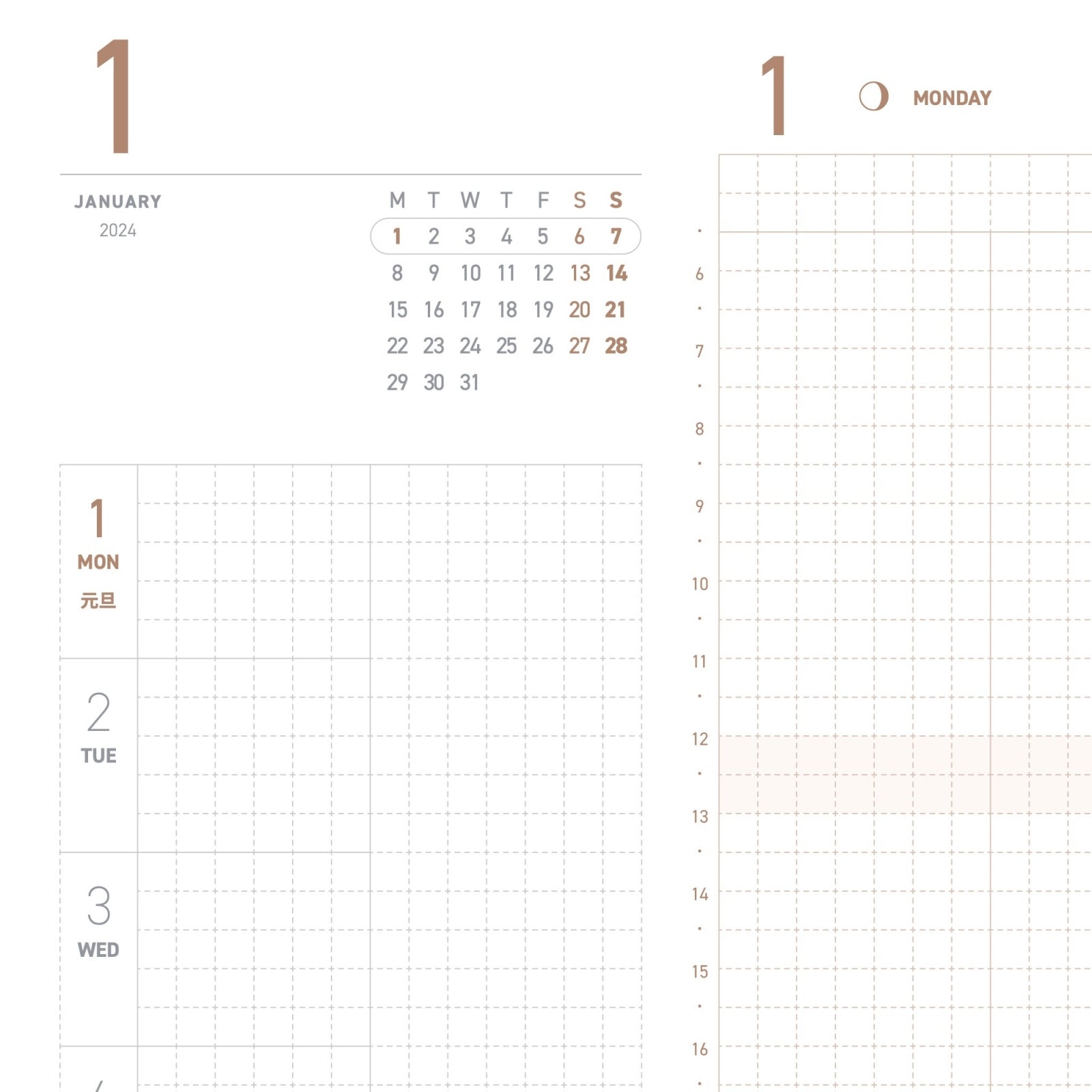 Mini Calendar
Visually indicates the position of the current week, allowing you to know the month's holidays without having to refer to the monthly plan.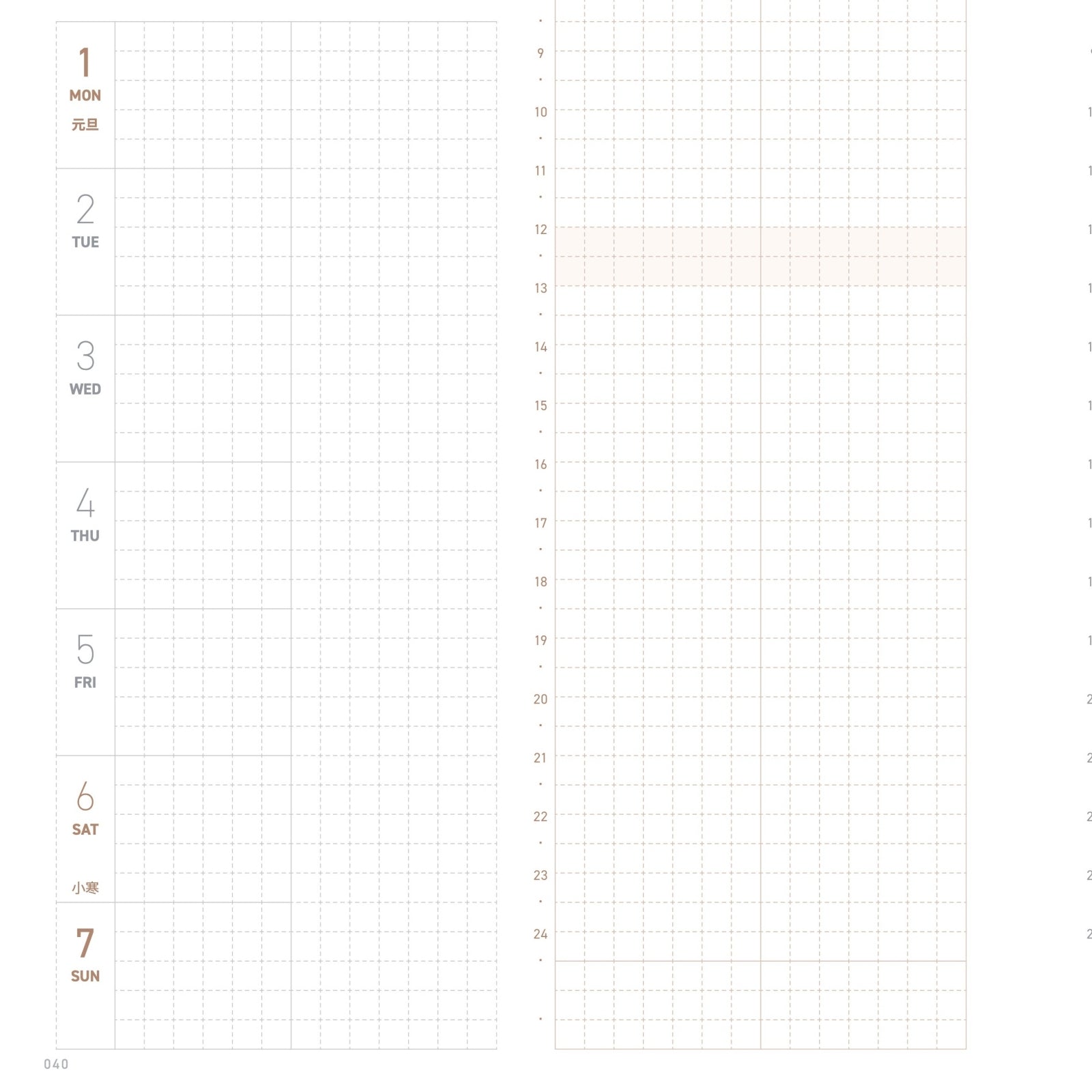 Mini Weekly Calendar
Records important weekly schedules. An extremely light solid line divides the mini weekly calendar, and the right side has undated blank grids for recording different items based on personal habits.
Vertical Timeline
Extending from 6:00 AM to midnight, suitable for users with different daily routines. Free from excessive decorations, with ample writing space, perfect for recording schedules, writing diaries, and expressing emotions.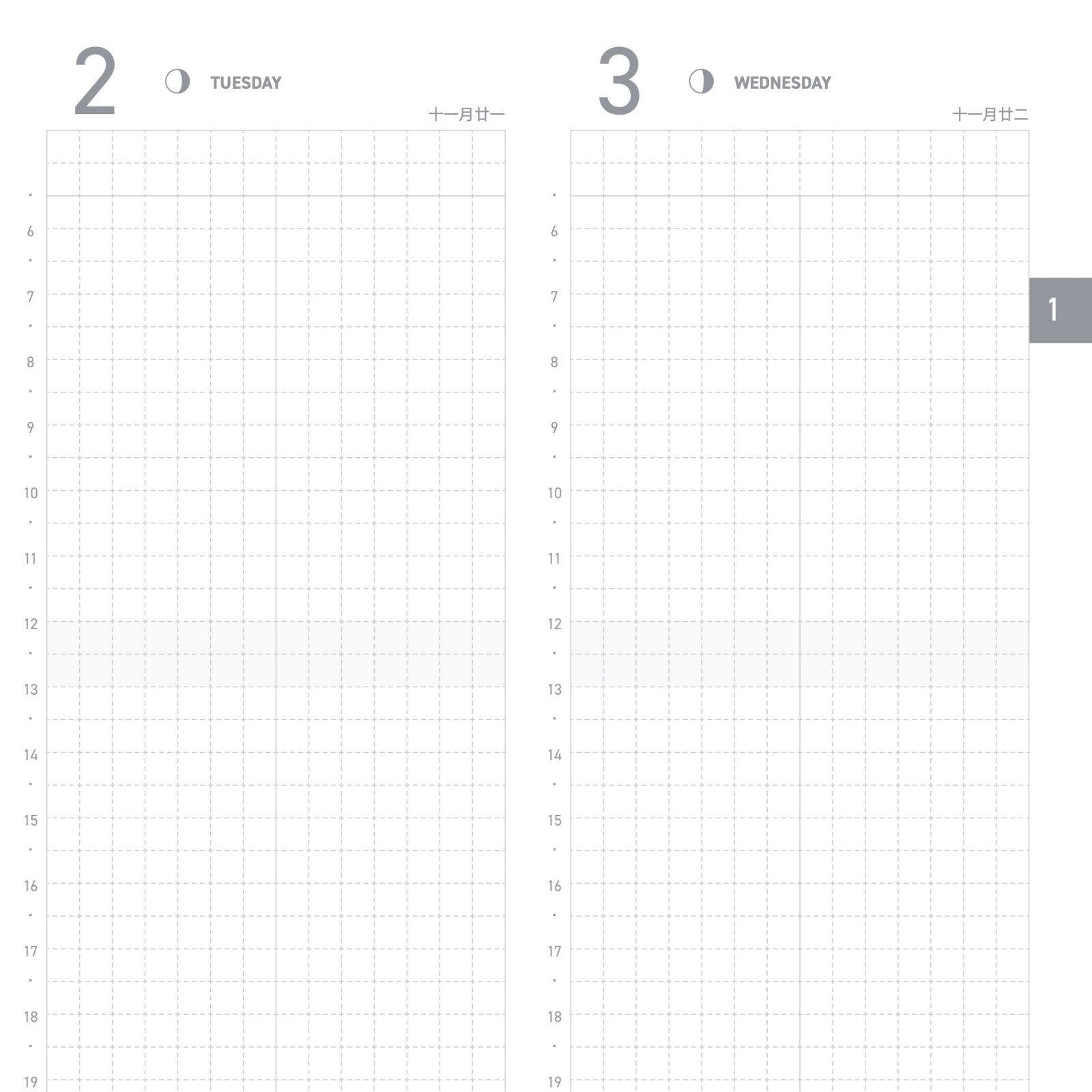 3mm Grid
All grids are drawn with very light dashed lines, allowing for combining 2 or 3 grids to enlarge or reduce text.
【Functional Grid Note Pages】
A total of 4 note pages, designed as supplementary appendices. The format has been redesigned to include triple dividers and crosshairs for positioning. The matrix-style "5x5 solid grid" allows for quicker grid counting, making note-taking more convenient than ever.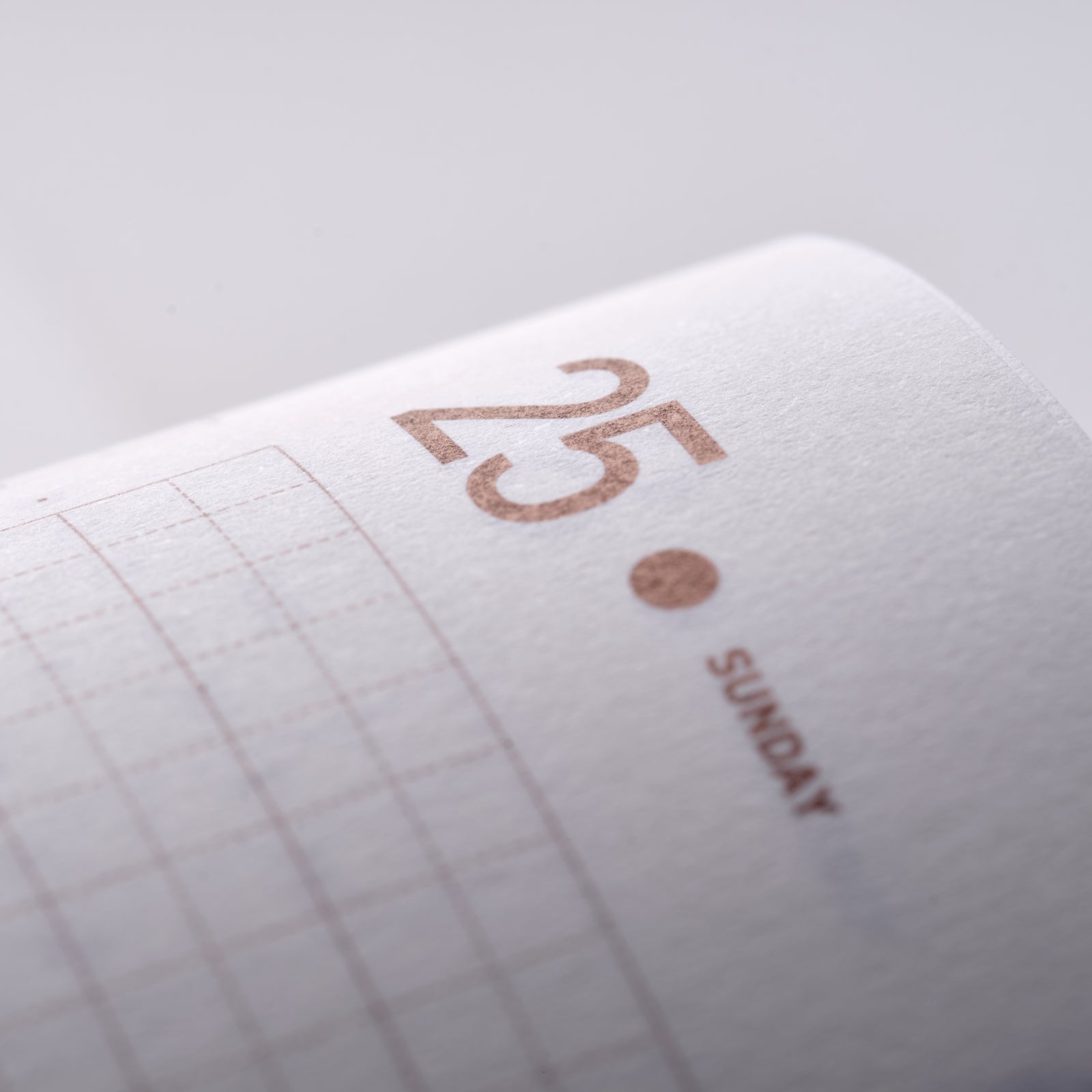 Uses 68gsm White Tomoe River Paper
Tomoe River Paper prevents ink from bleeding through when using a fountain pen. It offers excellent performance for drawing and stamping. The white Tomoe River Paper brings out the color of fountain pen ink even more compared to off-white paper.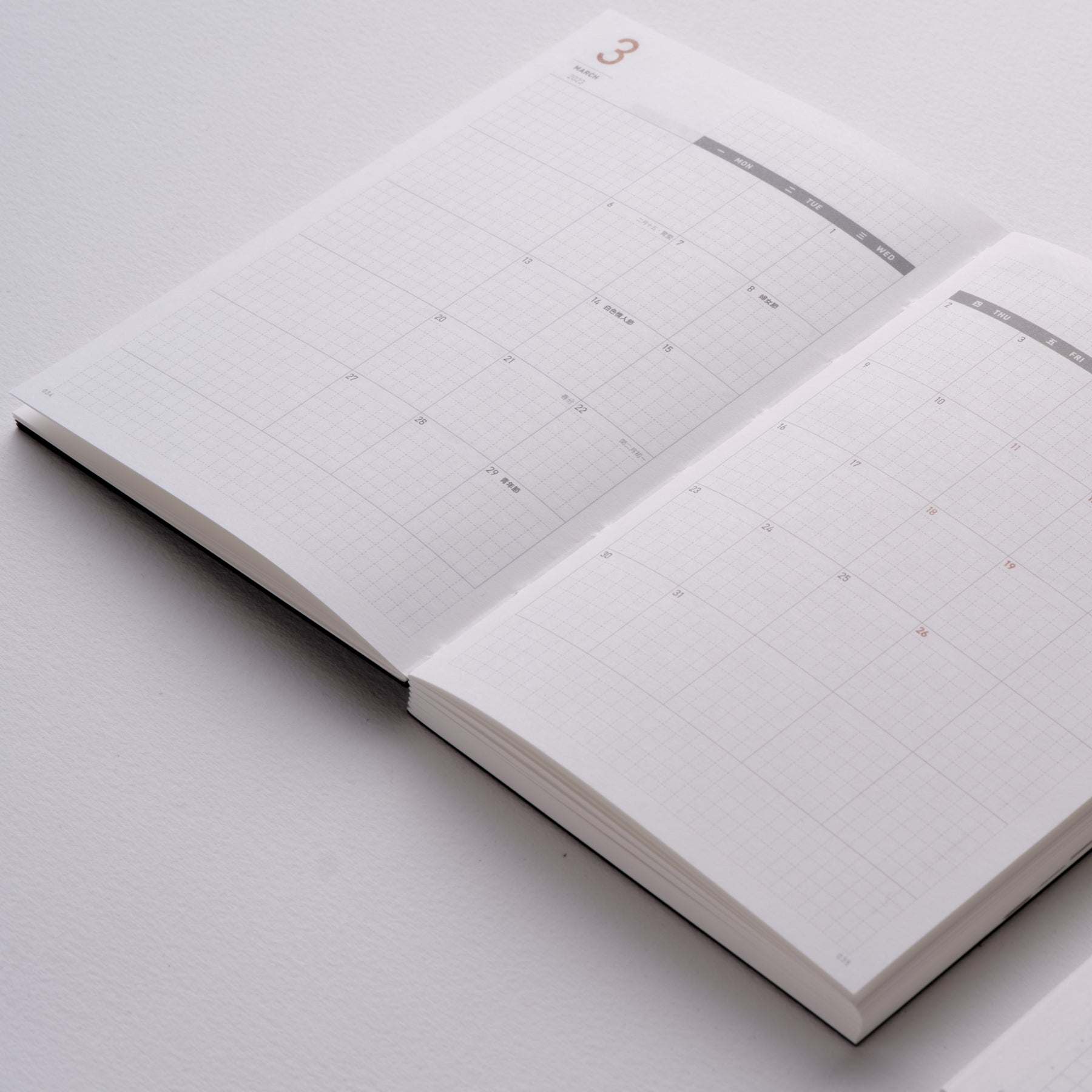 180-degree Flat Laying
Easily opens flat for writing. The exposed spine hardcover design truly allows for flat writing.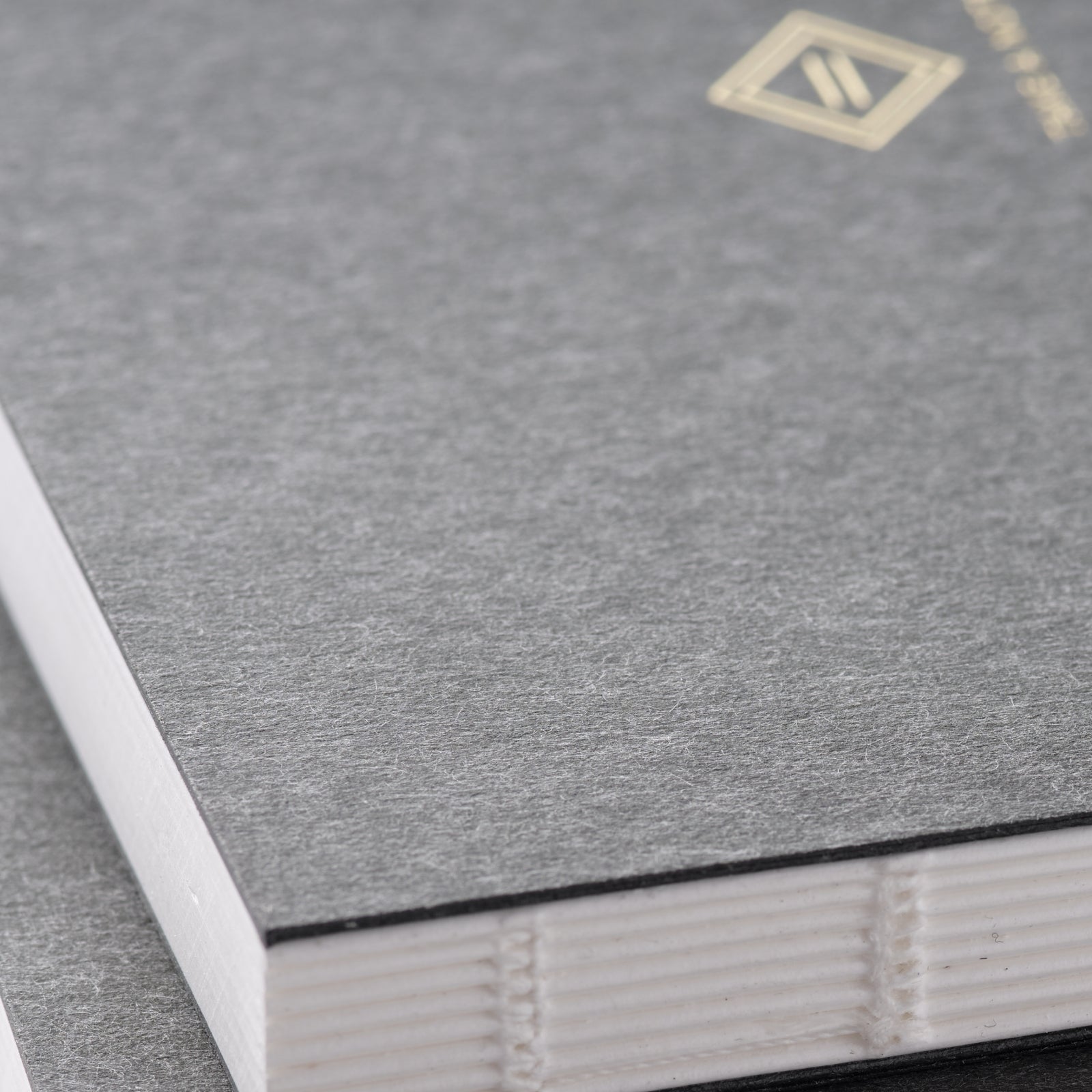 The Purity of Paper
Recording is a warm ritual. The cover is made of art paper, a premium type among art papers, capable of presenting the natural warmth of the paper material. This processing method aims to retain the original texture of the paper as much as possible.
Latest Products
2024 Planners
OUR USERS' VOICE
#takeanote #tan_planner #takeanote手帳
Welcome to share your inspiration with us