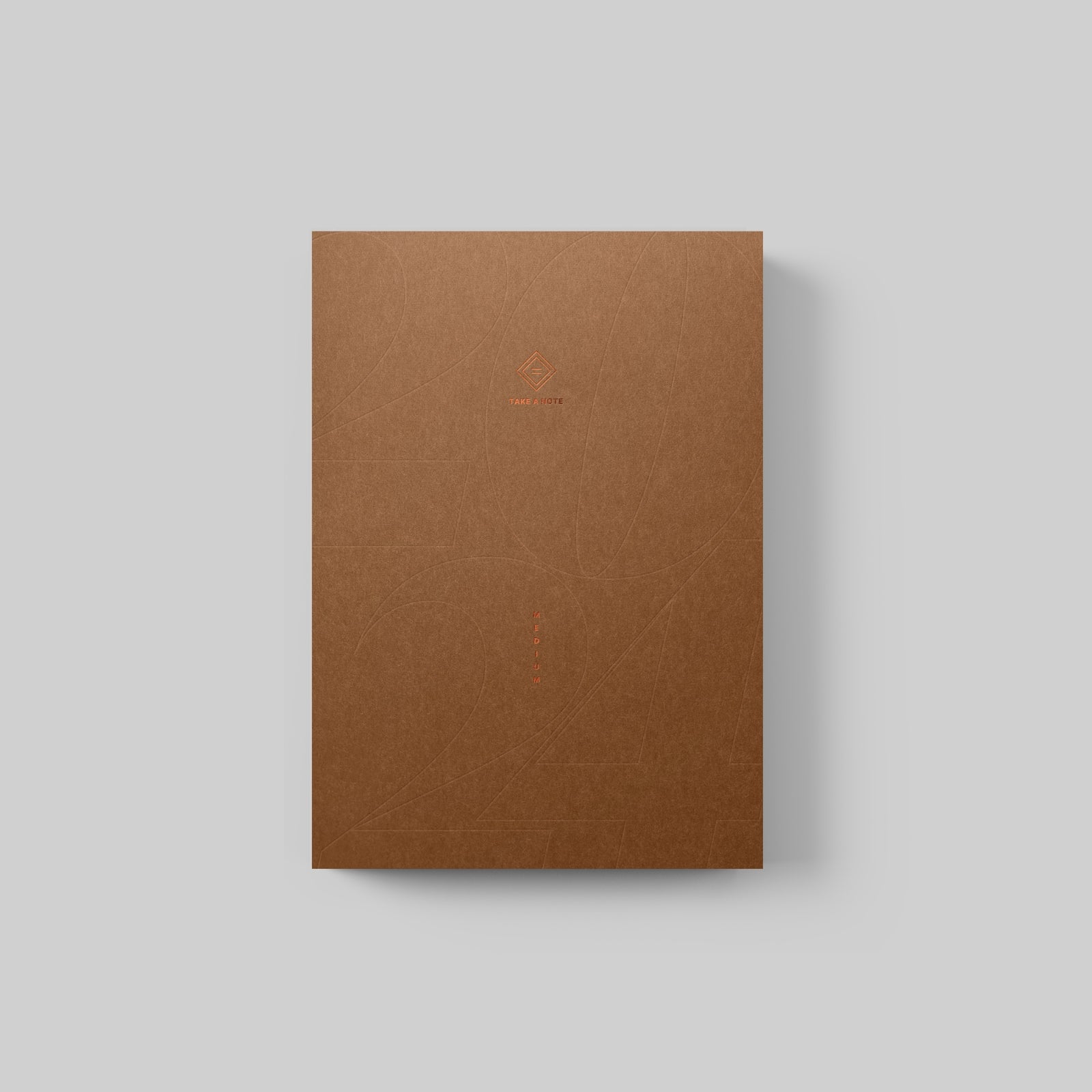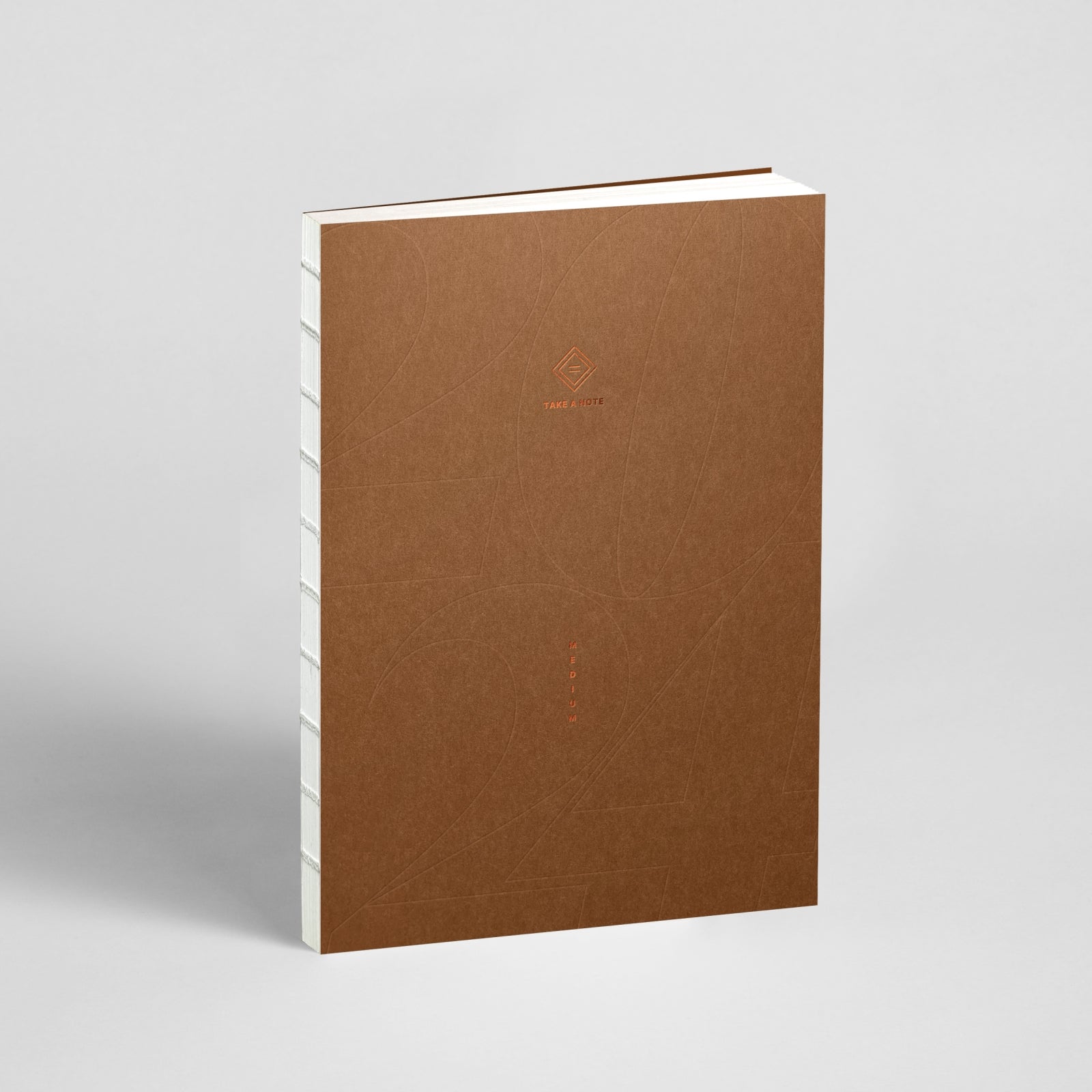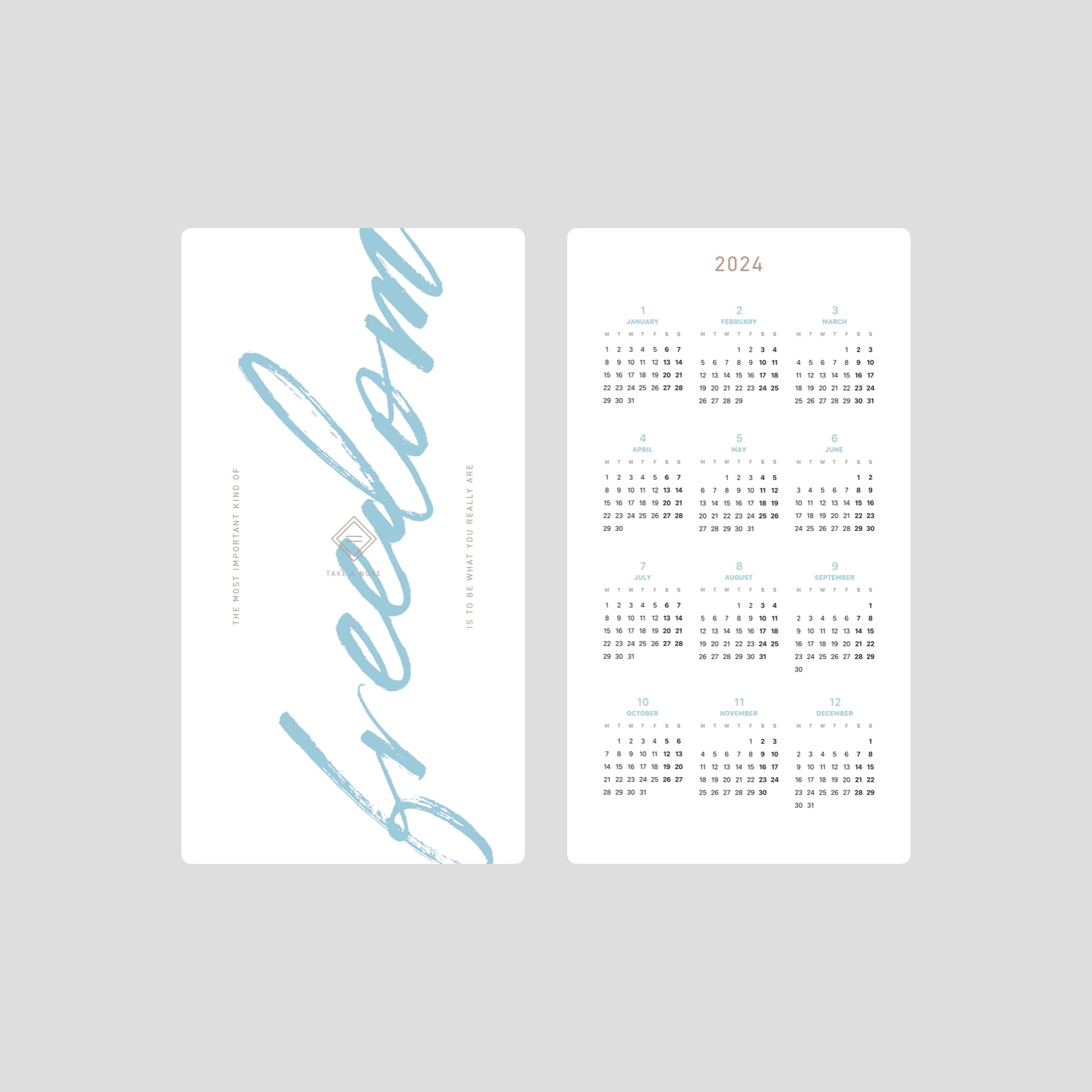 TAKE A NOTE 2024 MEDIUM WEEKS PLANNER B6
Sale price
$700.00 TWD
Regular price
(/)
Pre-order Period: August 25th - September 30th. (Pre-order special offer has ended)
Shipping will begin on in the order the orders were received.
Pre-order Promotion Notes: The discount code for member points redemption cannot be combined with bundle offers. Only one discount code can be used per single order. To avail the bundle discount, please place your order on the promotion page so that the checkout amount can be accurately discounted.
If there are different shipping dates for pre-ordered items within an order, shipping will occur once all items are available, with the latest shipping date determining the dispatch.
If you wish to receive in-stock items first, please place a separate order for pre-order items.
224 pages | 68gsm Tomoe River paper | 180-degree flat layout | B6 size (12.8 × 18.2 × 1.2cm) | Includes: (1 page) Title page, (1 page) Yearly calendar, (1 page) Horizontal Gantt Chart [2024.01-2024.12], (4 pages) Vertical Gantt Chart, (32 pages) Monthly plan [2023.12-2025.03], (106 pages) Weekly plan [2024.01-2024.12], (78 pages) Functional grid note pages, (1 page) Personal information page
台灣地區訂單滿1000元免運(免運門檻即將於預購結束後調漲,敬請把握機會)

若預購品與現貨商品同時結帳將視為預購訂單,待預購商品到貨後一併寄出,若現貨商品有急需,建議與預購商品分開訂購。

Overseas Territories: Products are shipped from Taiwan. We offer shipping methods such as UPS, EMS, E-Packet, etc. Shipping fees will be automatically calculated based on the weight of the items. You can estimate your order's shipping cost on the Cart Page.

[IMPORTANT] Import Duties and Taxes

CUSTOM FEES MAY APPLY
Depending on your country, you may be required to pay customs fees when importing your order from Taiwan. This charge is from your local government, so customers are responsible for paying these fees. 
**Update on 09/05**
In order to make it more convenient for consumers to identify whether the contents of the journal include Taiwanese holidays, the embossed color on the B6 planner cover has been adjusted from embossed black to embossed gold, with no other changes to the content.
After the adjustment, there are four versions of the TAKE A NOTE 2024 dated planner with cover embossed colors to distinguish the content:
Gold embossed cover (No Taiwanese holidays): Focus on your plans and daily life with no interruptions!
Black embossed cover (Taiwanese holiday edition): Always stay informed about Taiwanese holidays to help you plan your activities.
//
Brand new design concept for 2024! Simpler, lighter, and more flexible.
Inner pages are made of 68gsm white Japanese Tomoe River paper with exposed spine binding, allowing for a complete 180-degree flat layout.
Weekly planning section with two pages per week. Utilizes varying shades of color and line thickness to divide daily time, replacing the traditional hourly timeline format.
The bottom of each page is covered in extremely faint grid patterns, breaking free from rigid frameworks and providing more writing space.
Compatible with RECORD series stickers.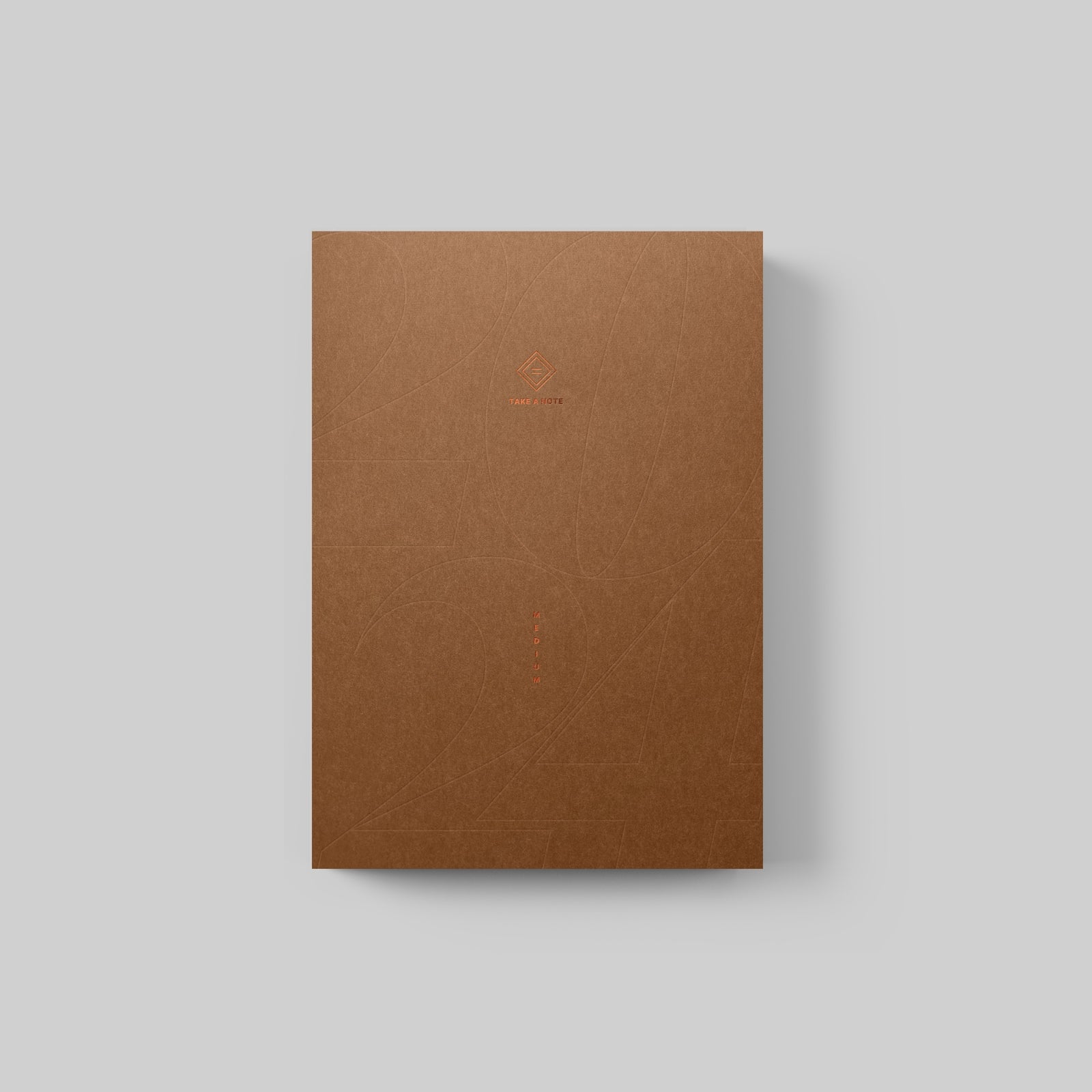 TAKE A NOTE 2024 MEDIUM WEEKS PLANNER B6
Sale price
$700.00 TWD
Regular price
Choose options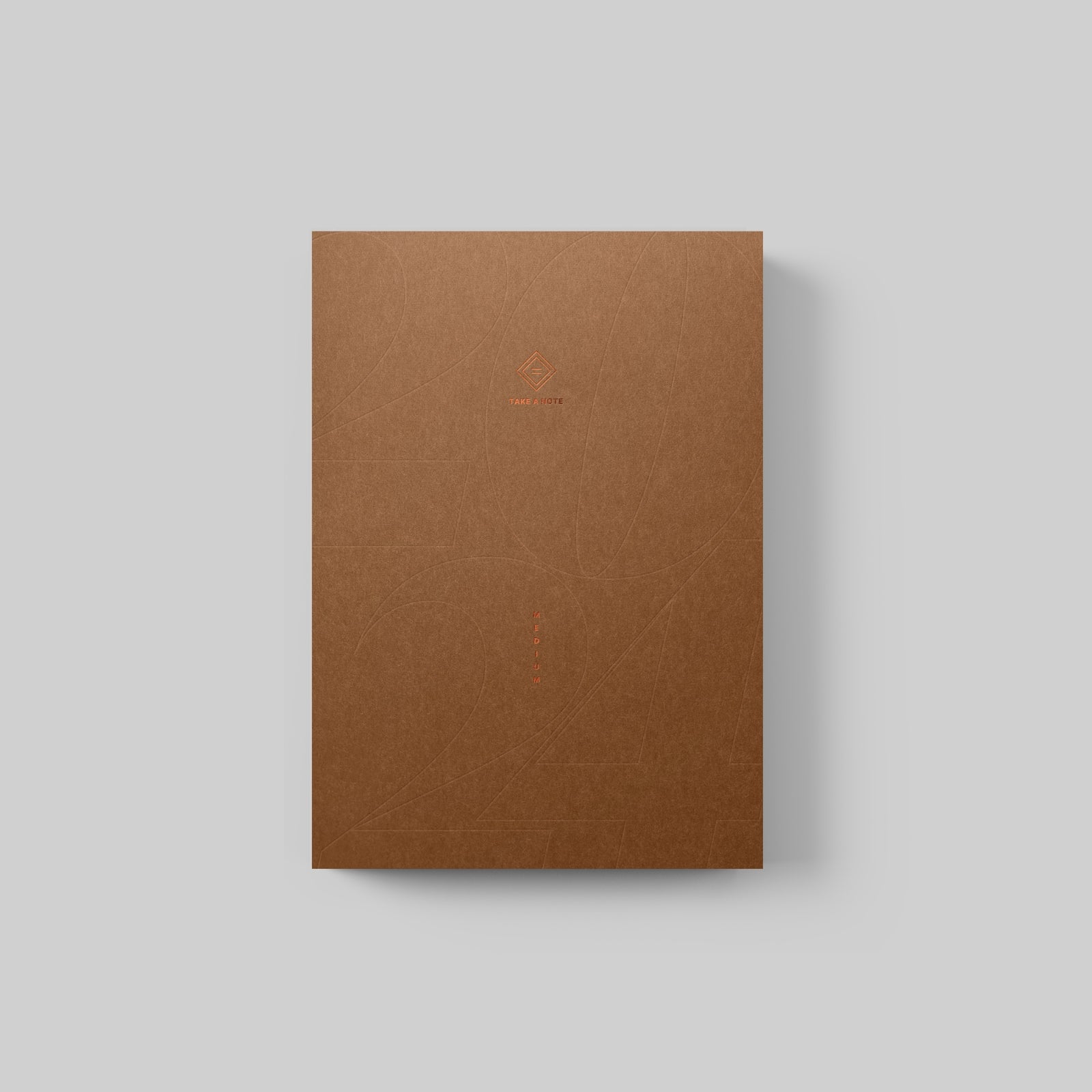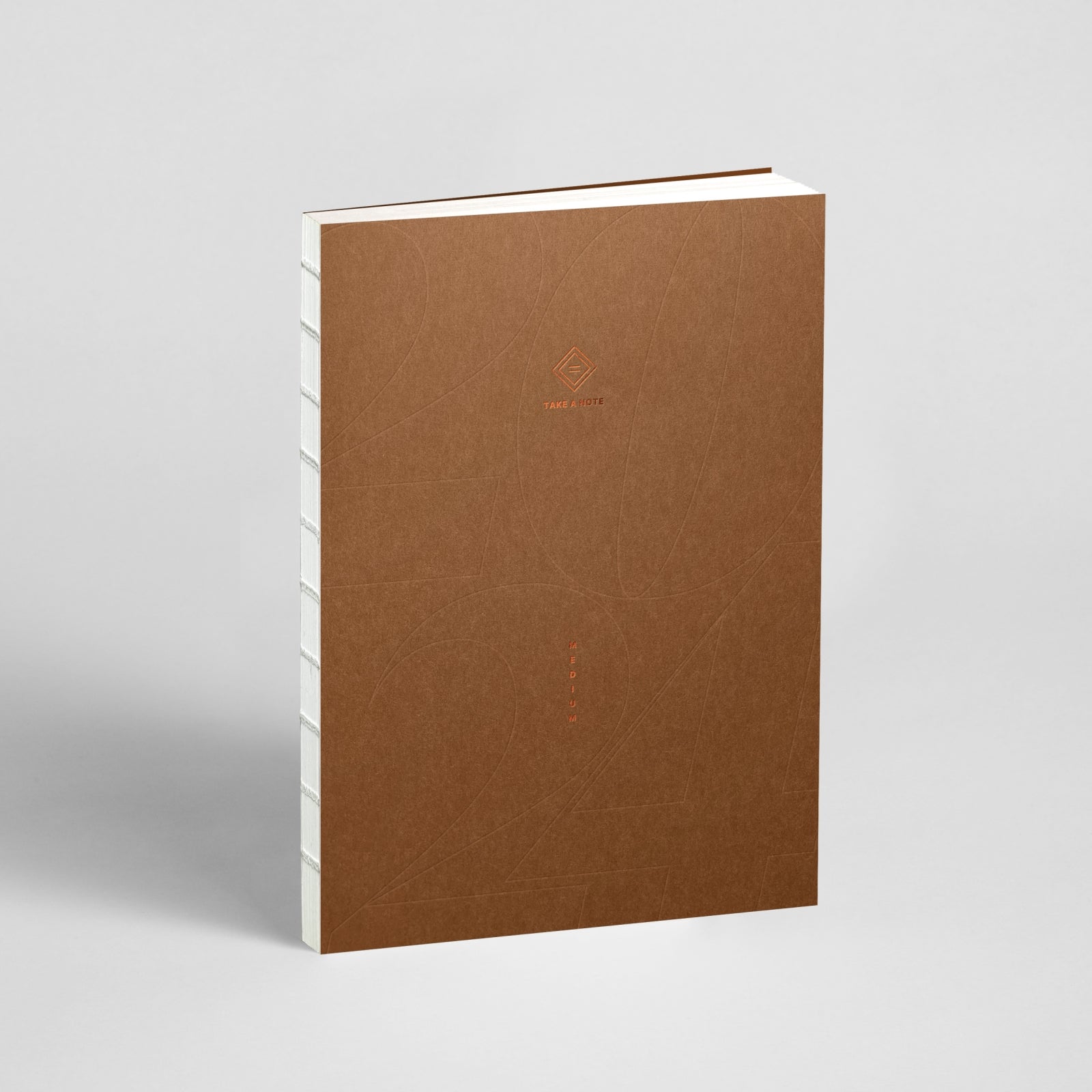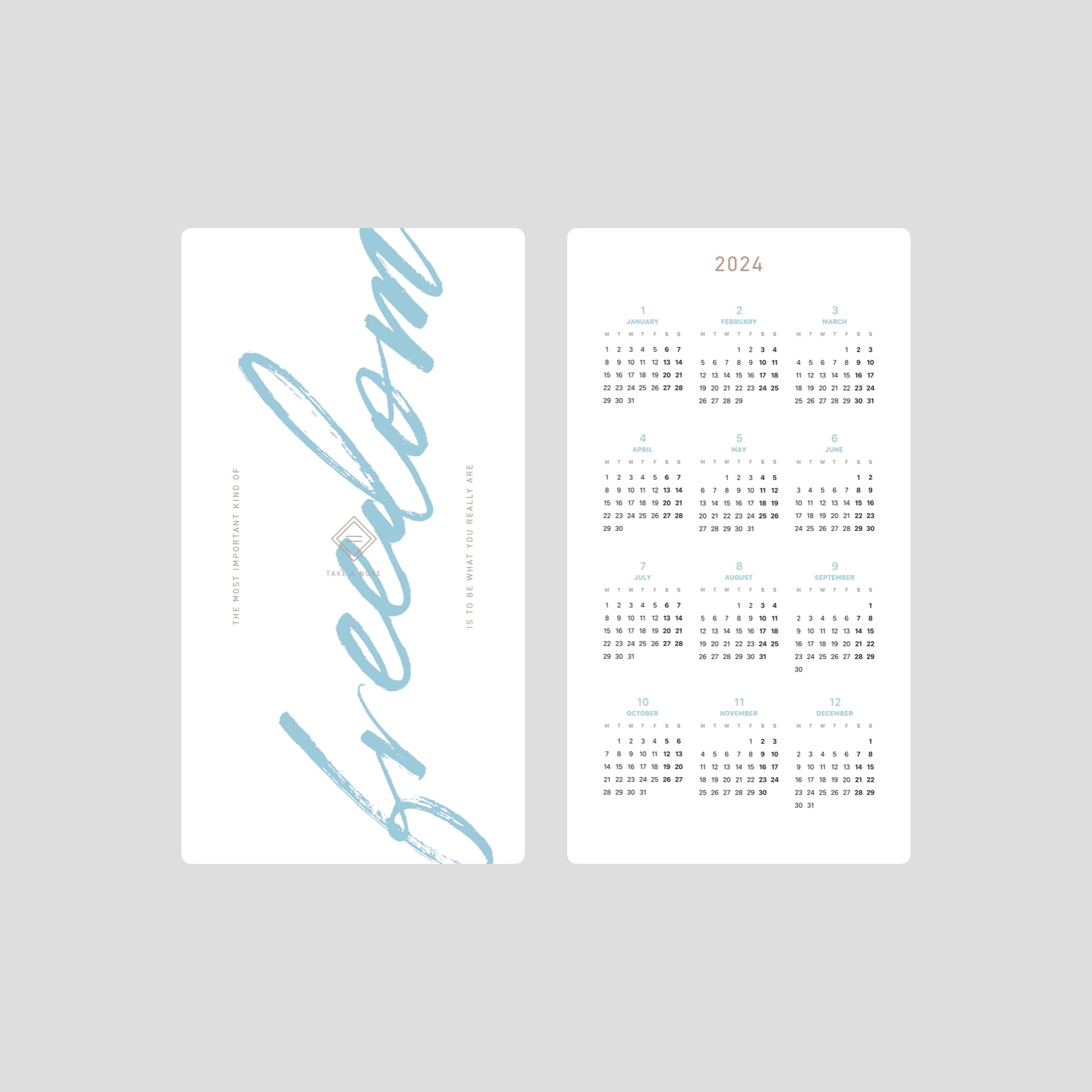 New Design Concept for 2024
Simpler, lighter, and more flexible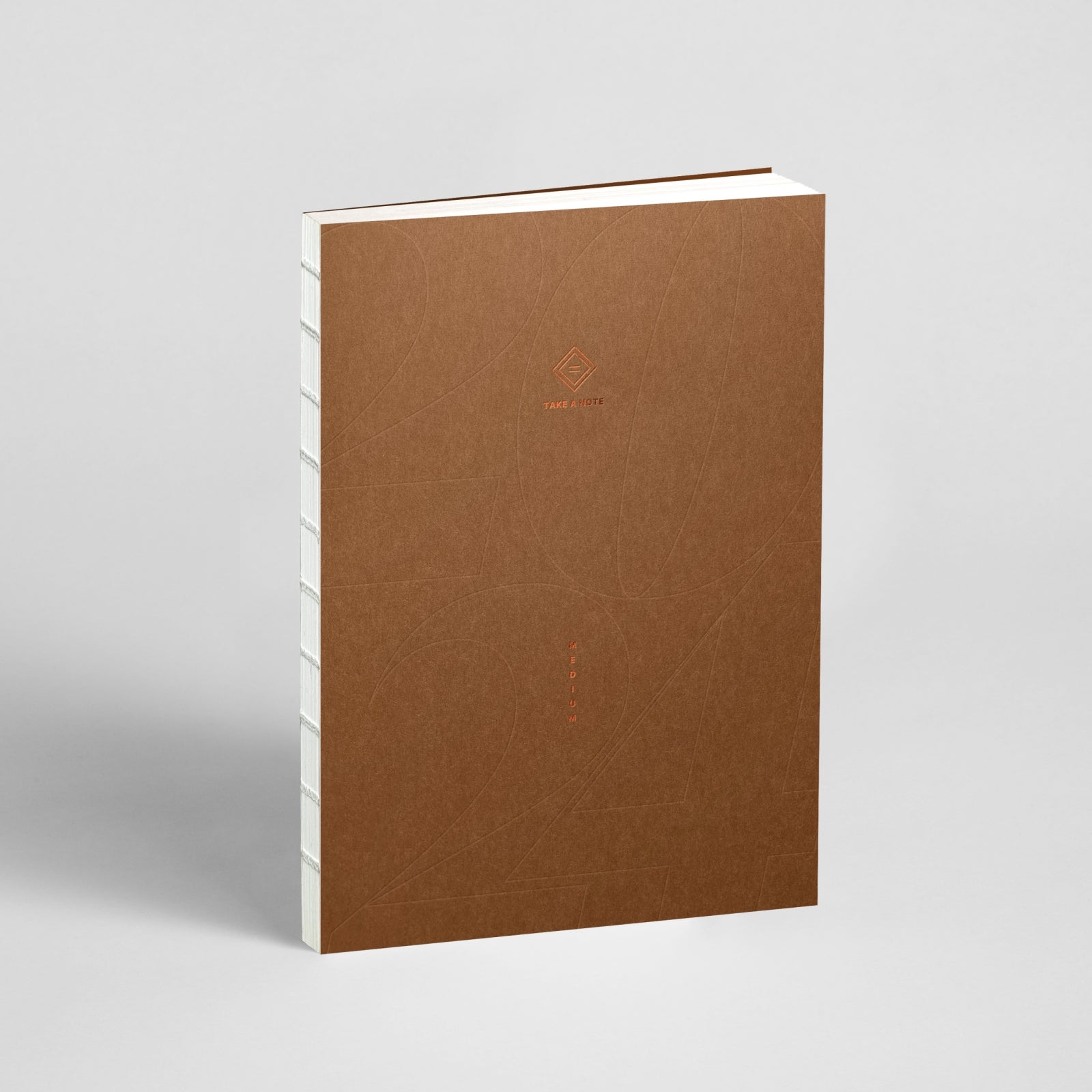 FEATURE
#1 Smaller in size, lighter in weight, and more spaces
"MEDIUM WEEKS" is in B6 size with a page bottom filled with very light-colored grids. The grid design without any spacing breaks free from the constraints of traditional formats, providing additional writing space. The two-page-per-week weekly plan allocates more pages for grid note-taking, addressing the long-awaited demand from users for more blank pages.
FEATURE
#2 New design with higher flexibility
The two-page-per-week weekly plan employs variations in color intensity and line thickness to segment daily time, replacing the conventional hourly-based timeline. The same space can be customized according to personal preferences, catering to users with lower demands for time management while not affecting those who require schedule organization.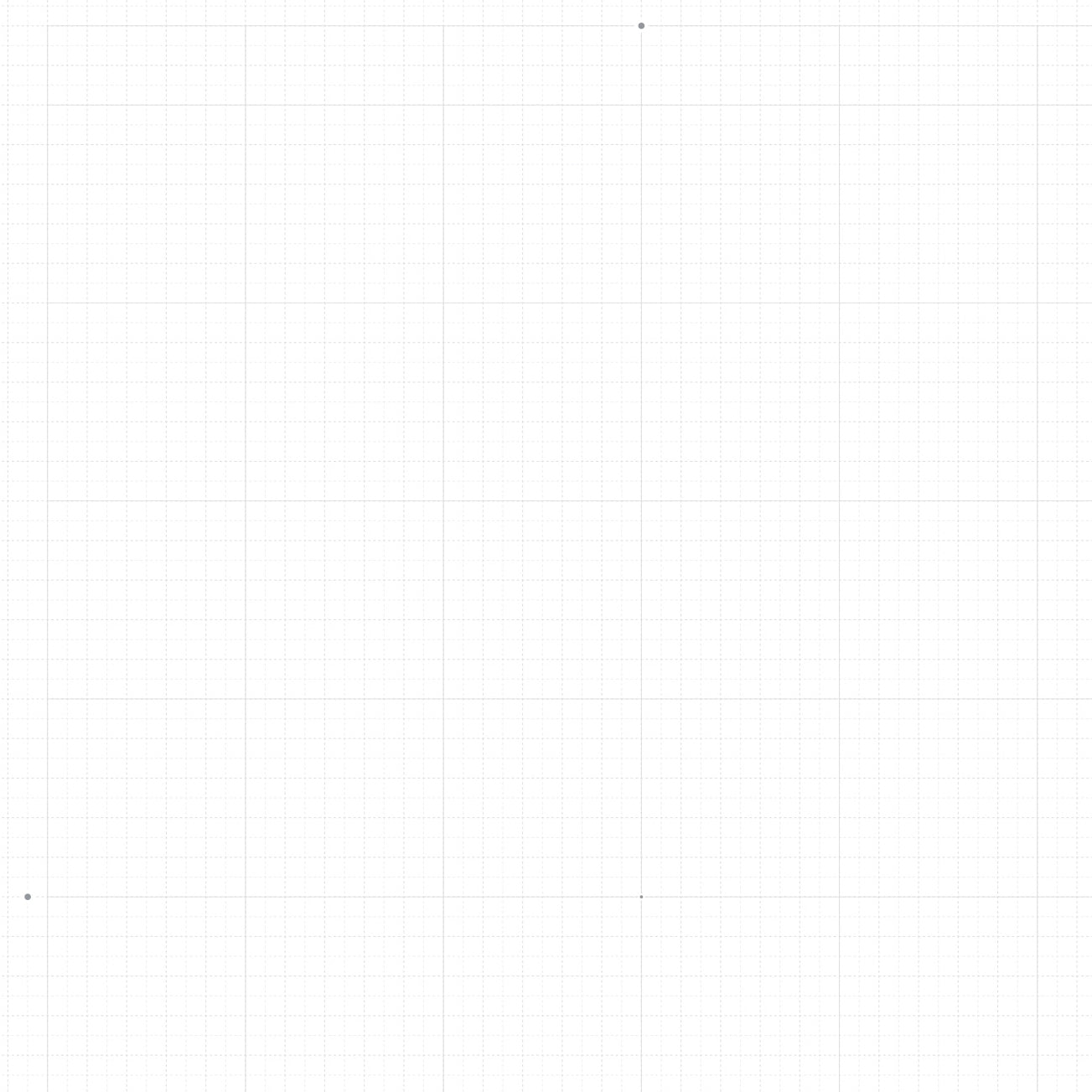 FEATURE
#3 Innovative grid design for better writing
Continuing the innovative grid design from the RECORD series, we ingeniously utilize variations in line intensity, shading, and positioning points. This eliminates the need to spend time counting grids, as our design allows users to instantly grasp the page structure and easily locate their preferred writing positions.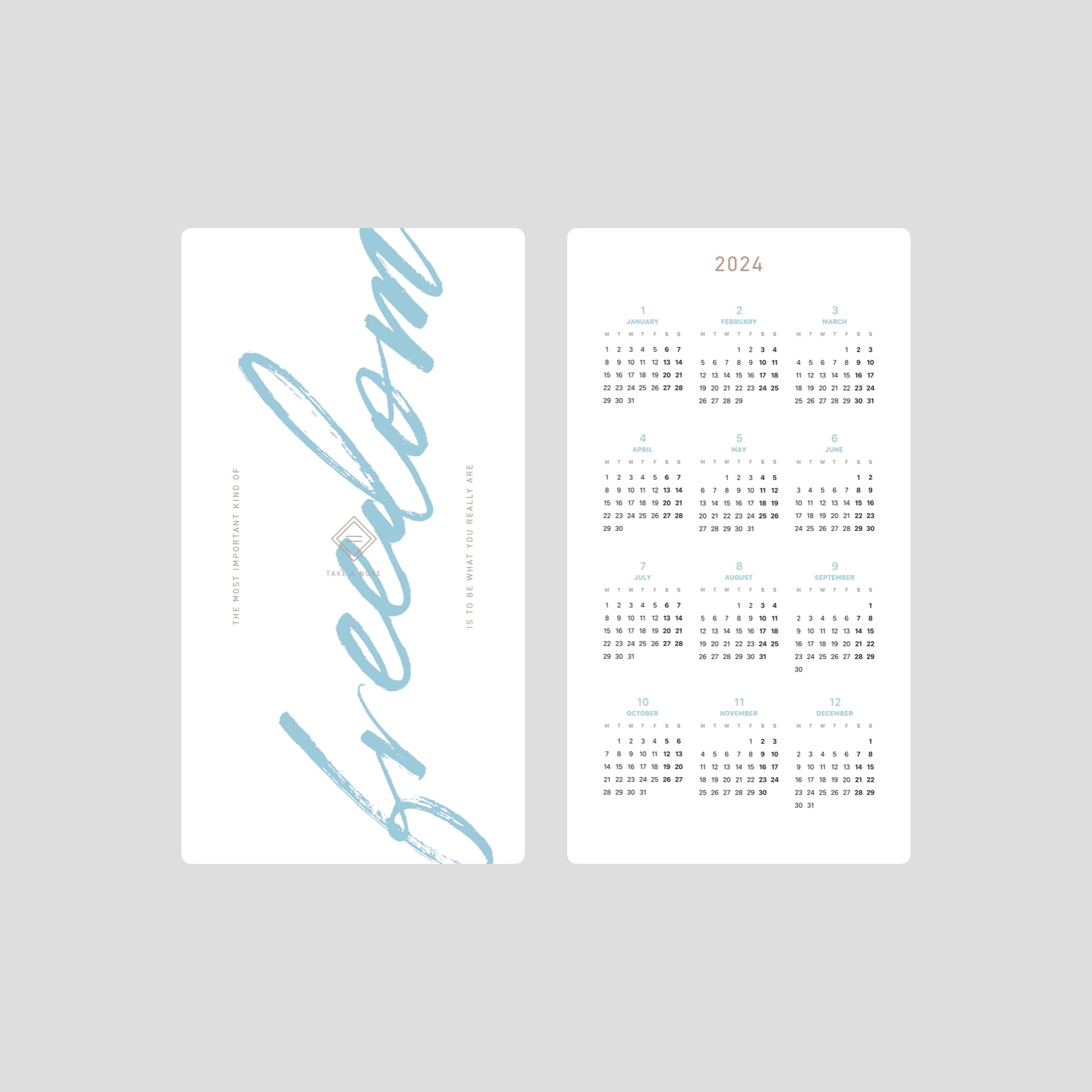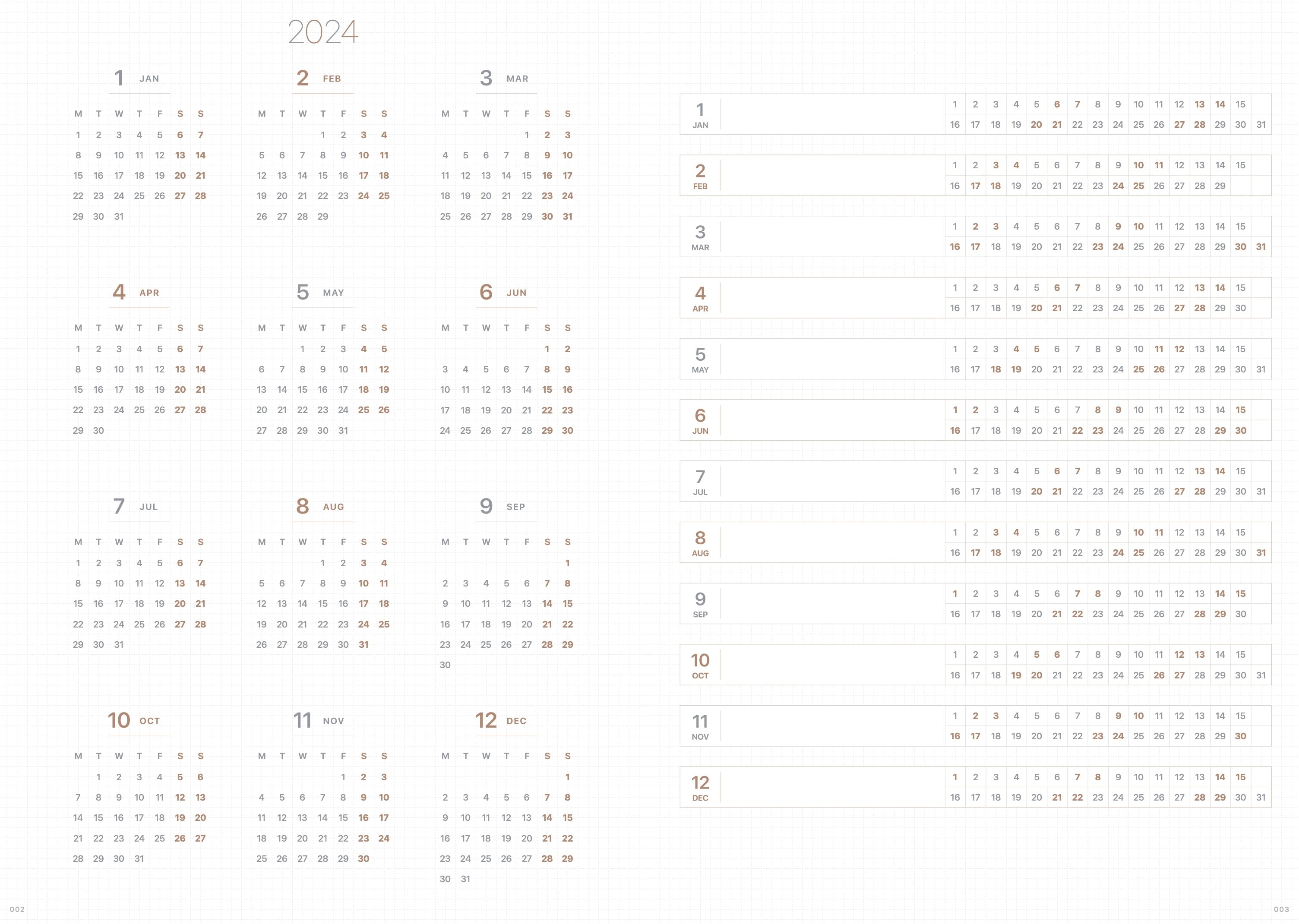 【Yearly Calendar】
Overview of the 2024 yearly calendar, featuring a dual-color design to distinguish between working days and holidays.
【Habit Tracking / Horizontal Gantt Chart】
A newly designed habit tracking table with increased writing space!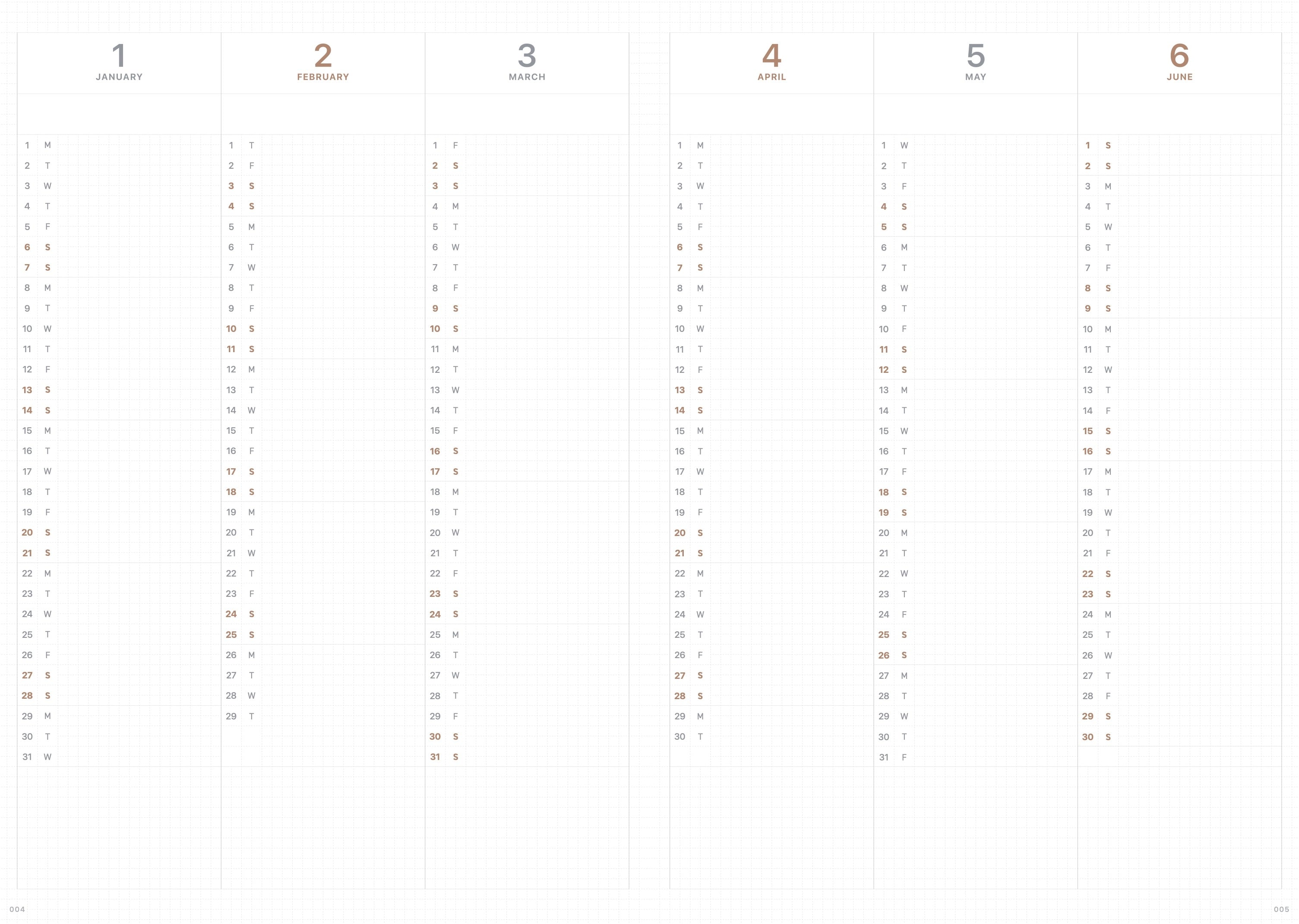 【Project Planning / Vertical Gantt Chart】
A half-year view calendar at a glance, extremely useful for project management. Also suitable for vacation planning, weight management, habit tracking, stock price trend lines, and other purposes.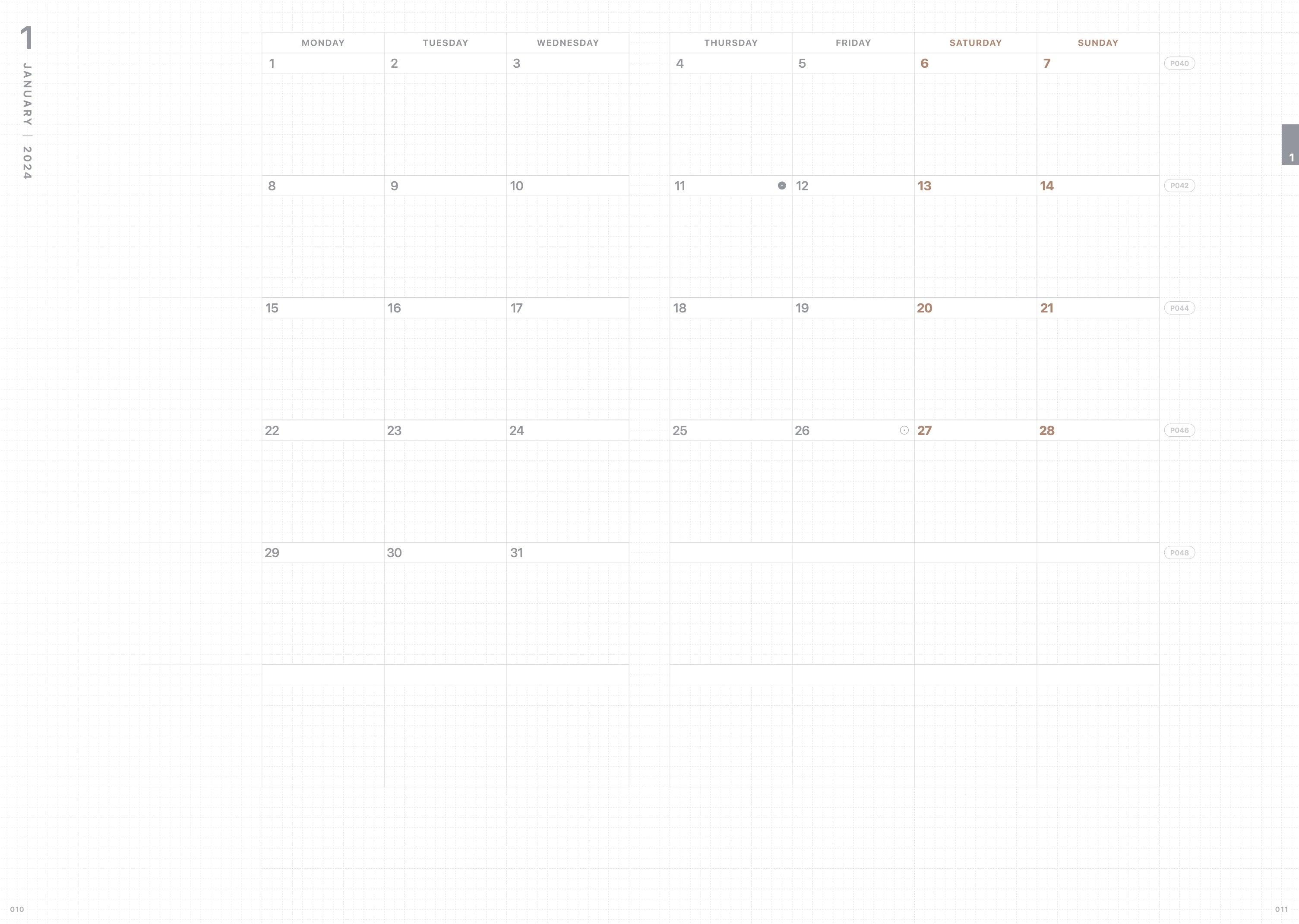 【Monthly Plan】
Streamlined presentation of monthly plans, retaining only essential dates, weekdays, lunar phases of new and full moons, and corresponding weekly plan page numbers, allowing you to focus on your own records. Alternating colors for odd and even months bring a fresh mood to each month.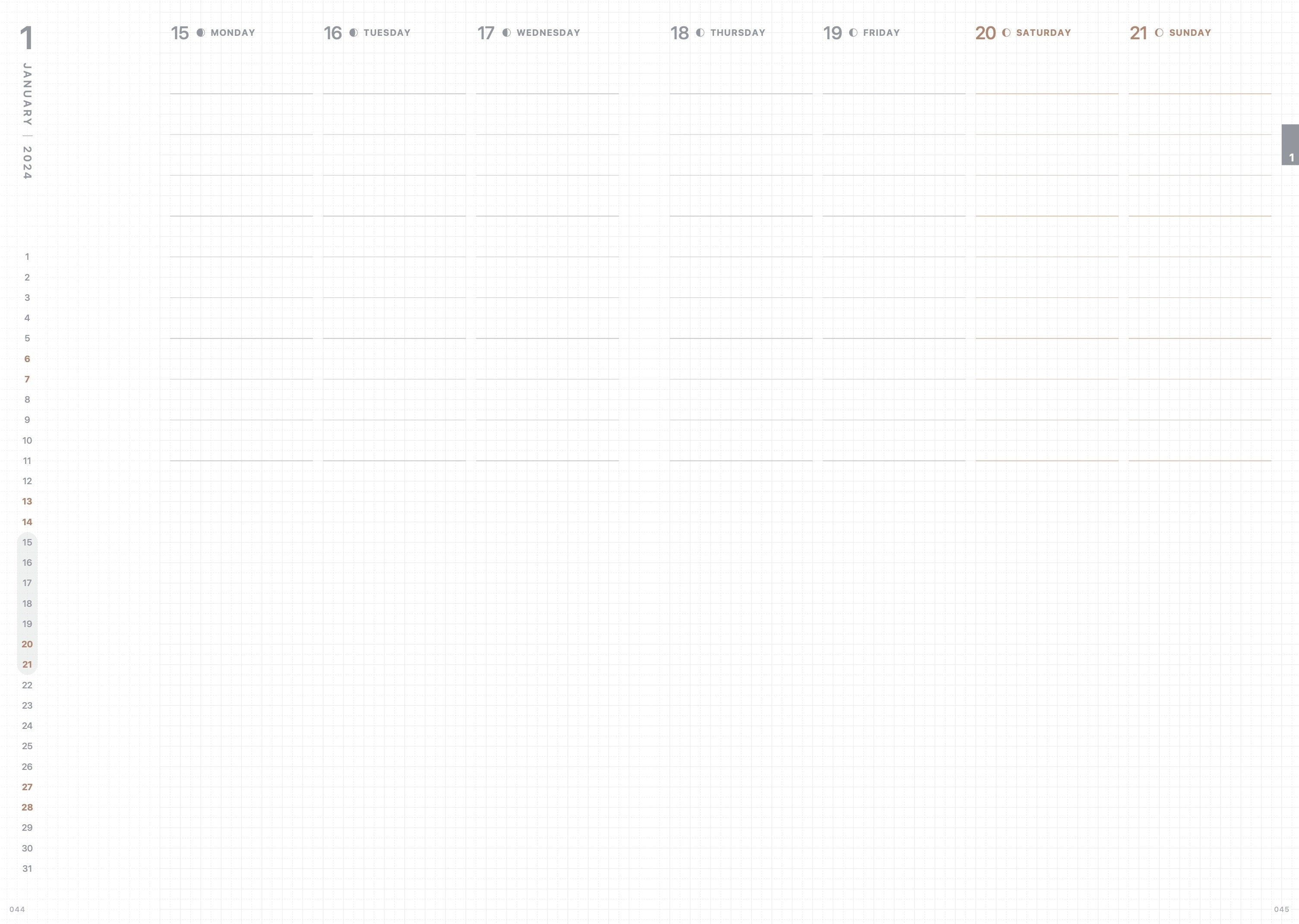 【Weekly Plan】
Using a two-page-per-week layout, easily see the important events of the week at a glance. The design utilizes variations in line style, thickness, and shading to divide each day into three sections. The lower half of the page features connected grid note-taking space, offering a design compatible with both time management and note-taking.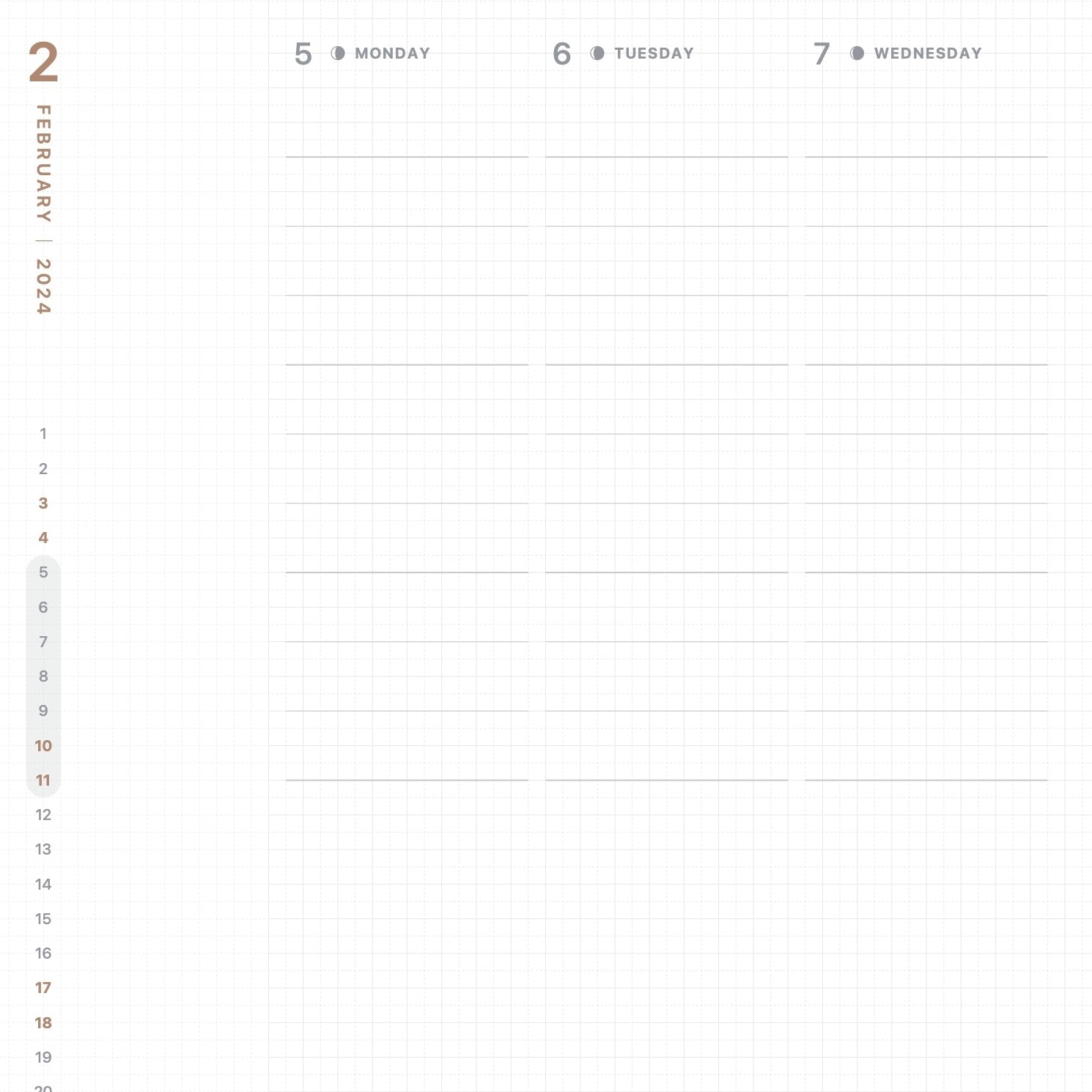 Light-Colored Boxes Indicate Weeks
The left side of the weekly plan displays the current month, with a light gray marker indicating the position of the week.
Lunar Phases
Daily lunar phases provide a sense of the changing seasons.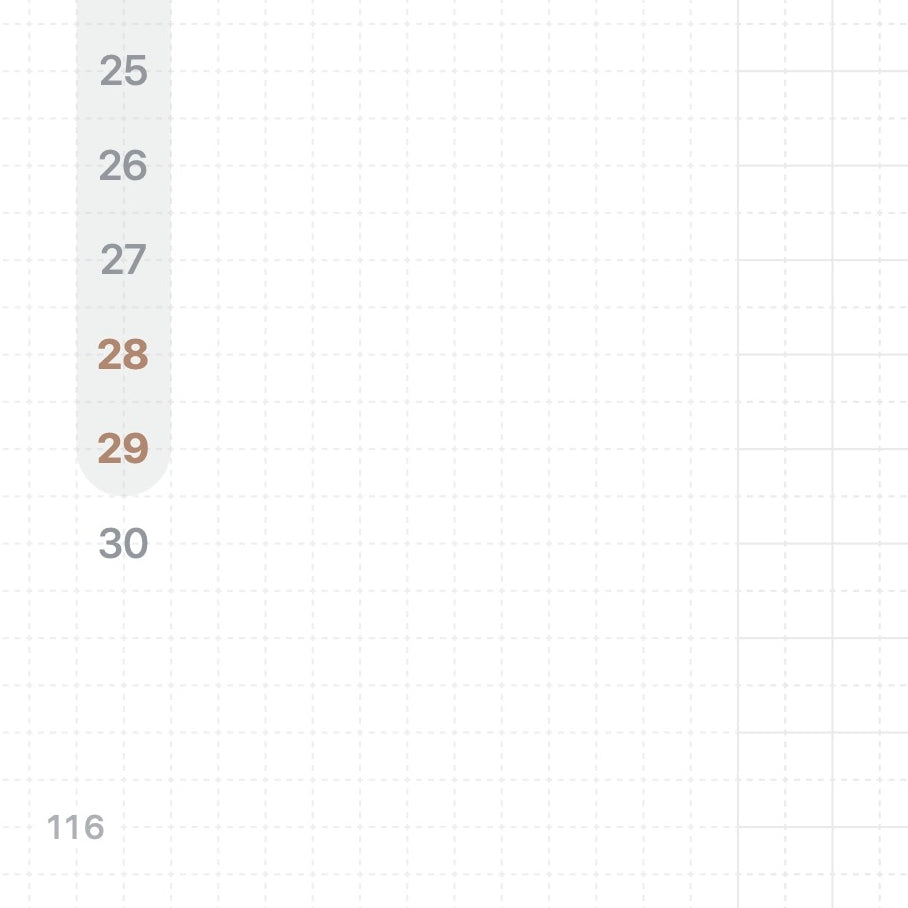 Page Numbers Corresponding to Monthly Plans
Each page is numbered, allowing for quick indexing even if notes are spread across different pages.
【Note Pages】
The unique TAKE A NOTE grid features three levels: a 4mm grid as the base, with a more delicate 2mm grid inside each 4mm square, and the 4mm squares combined to form solid lines of larger grids.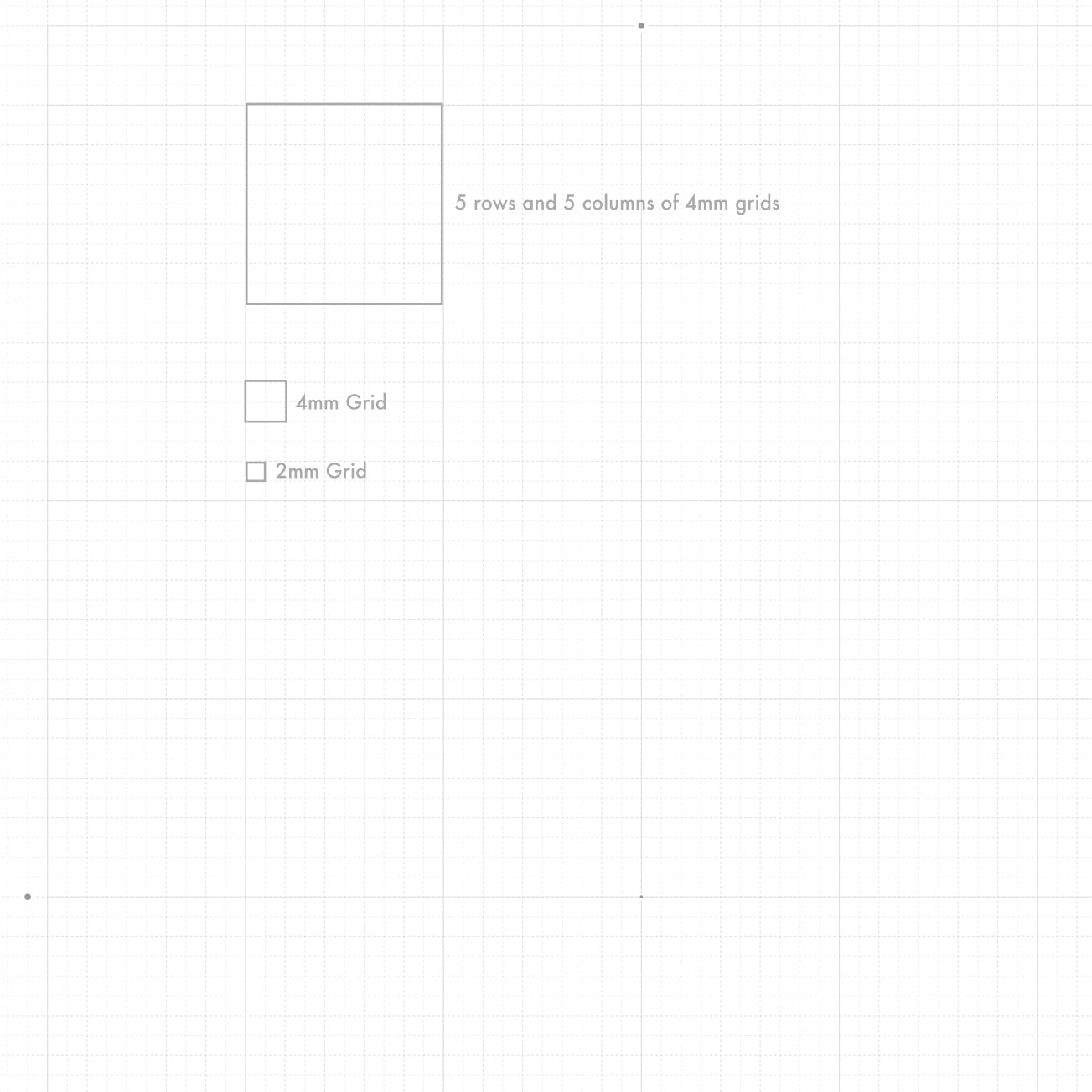 Handy Grids Worth Experiencing
Small grids aid in drawing lines, making marks, and alignment. The 4mm grid is suitable for writing in English and other languages, while a height of 2 squares accommodates Chinese characters.
The larger solid grid aids in recognizing page structure, allowing for consistent formatting across different pages without the need to count grids repeatedly.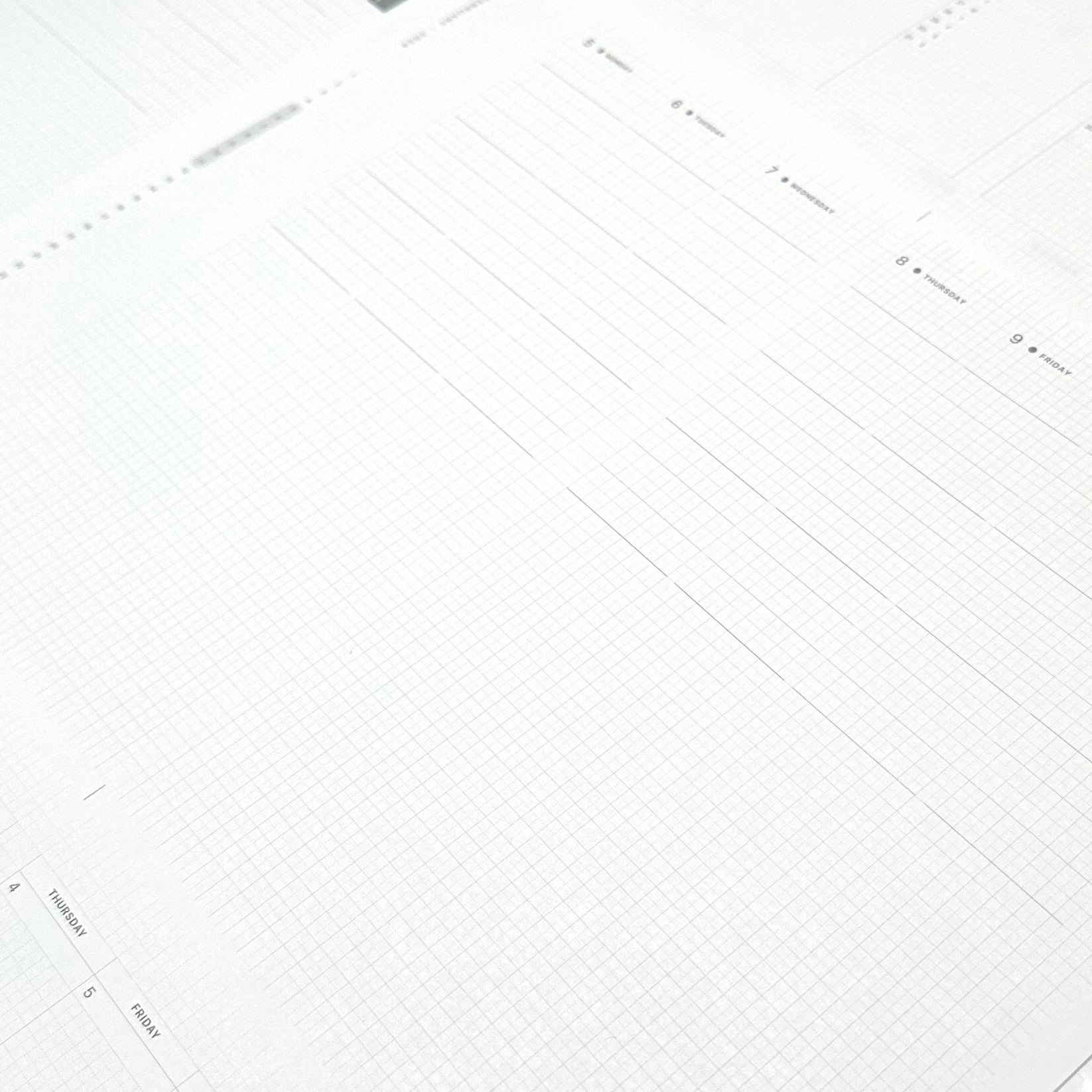 Using 68gsm White Tomoe River Paper
Tomoe River Paper prevents ink from bleeding through when using a fountain pen. It offers excellent performance for drawing and stamping. The white Tomoe River paper brings out the color of fountain pen ink even more compared to off-white paper.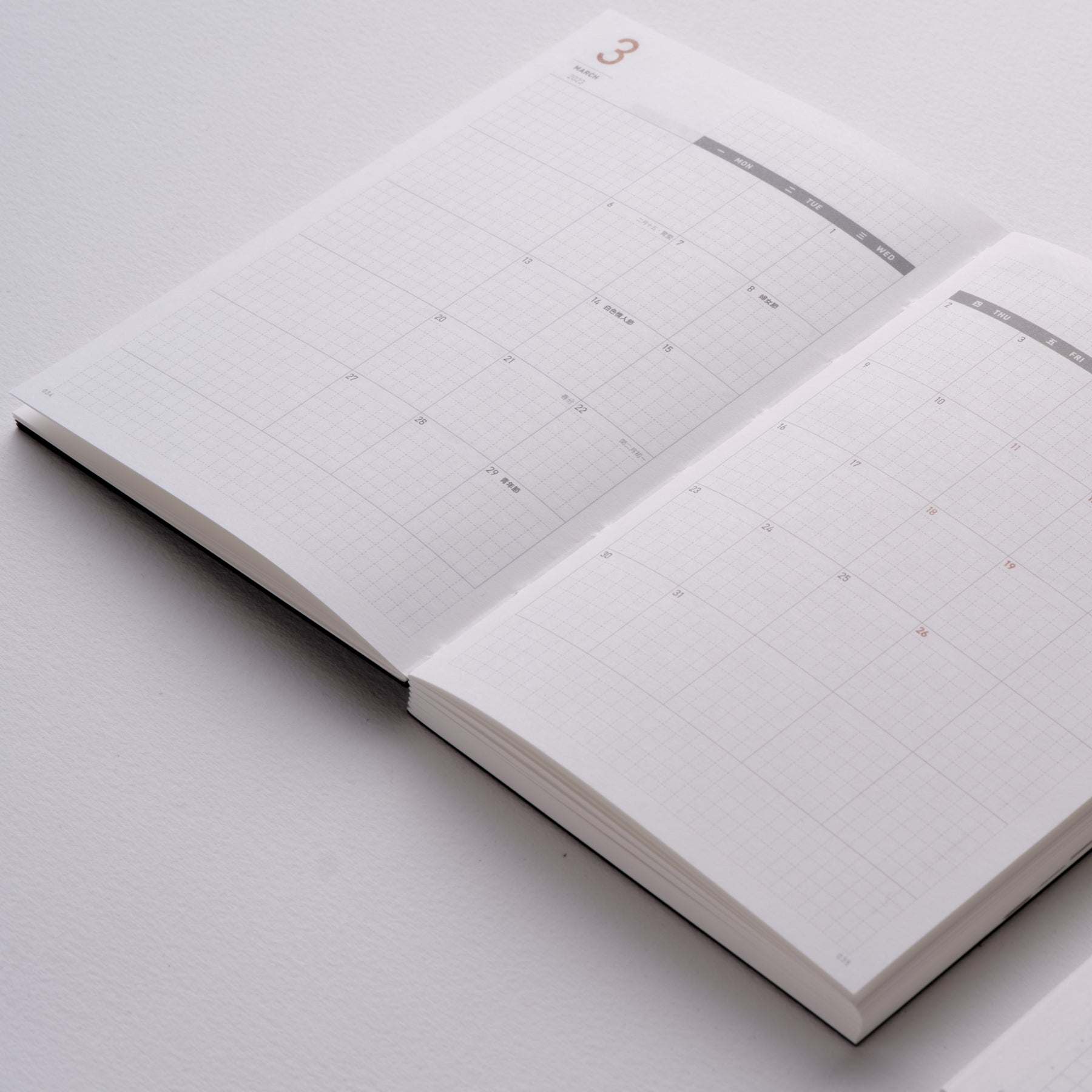 180-degree Flat Laying
Flip it open easily for a flat writing surface. The exposed spine hardcover design truly allows for flat writing.
Latest Products
2024 Planners
OUR USERS' VOICE
#takeanote #tan_planner #takeanote手帳