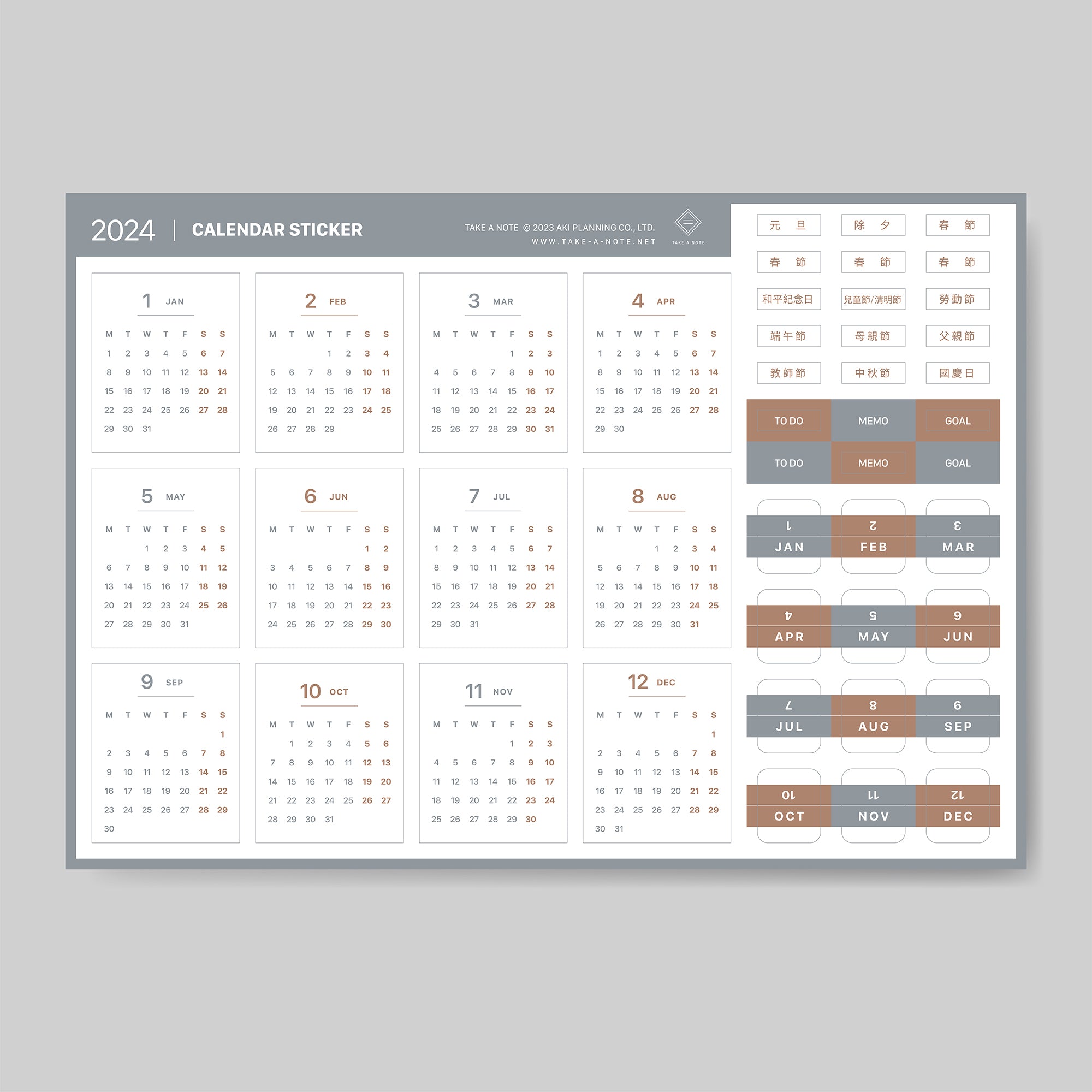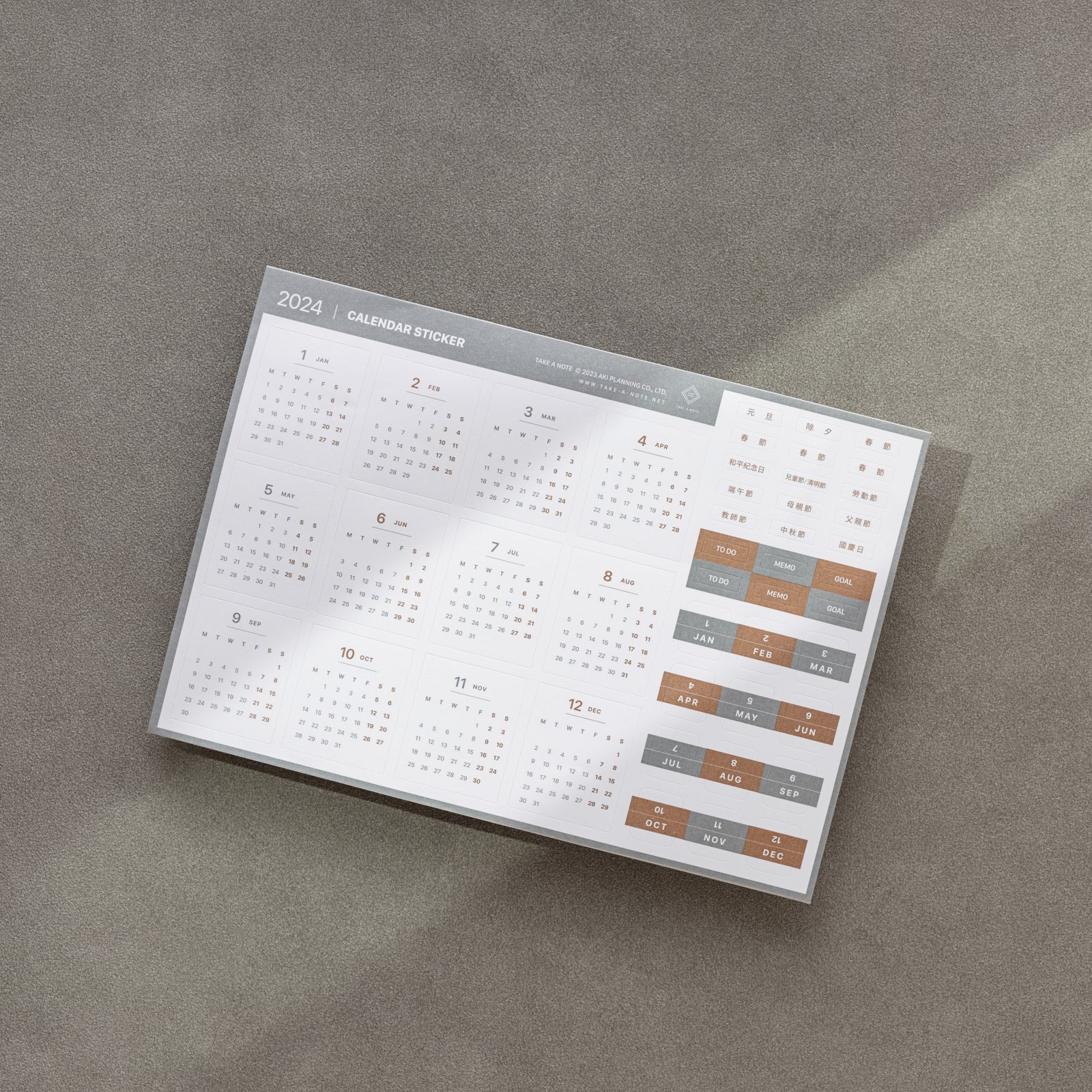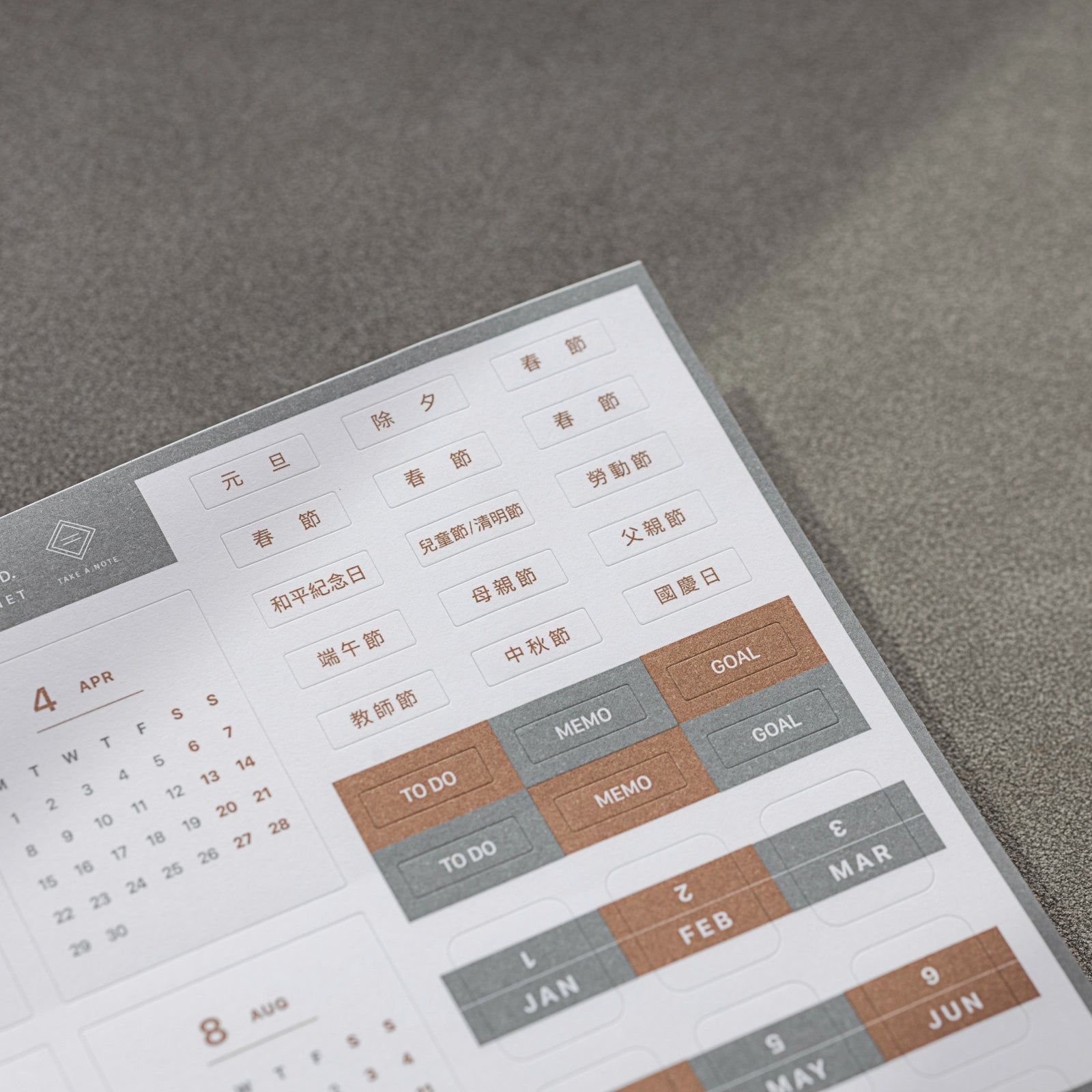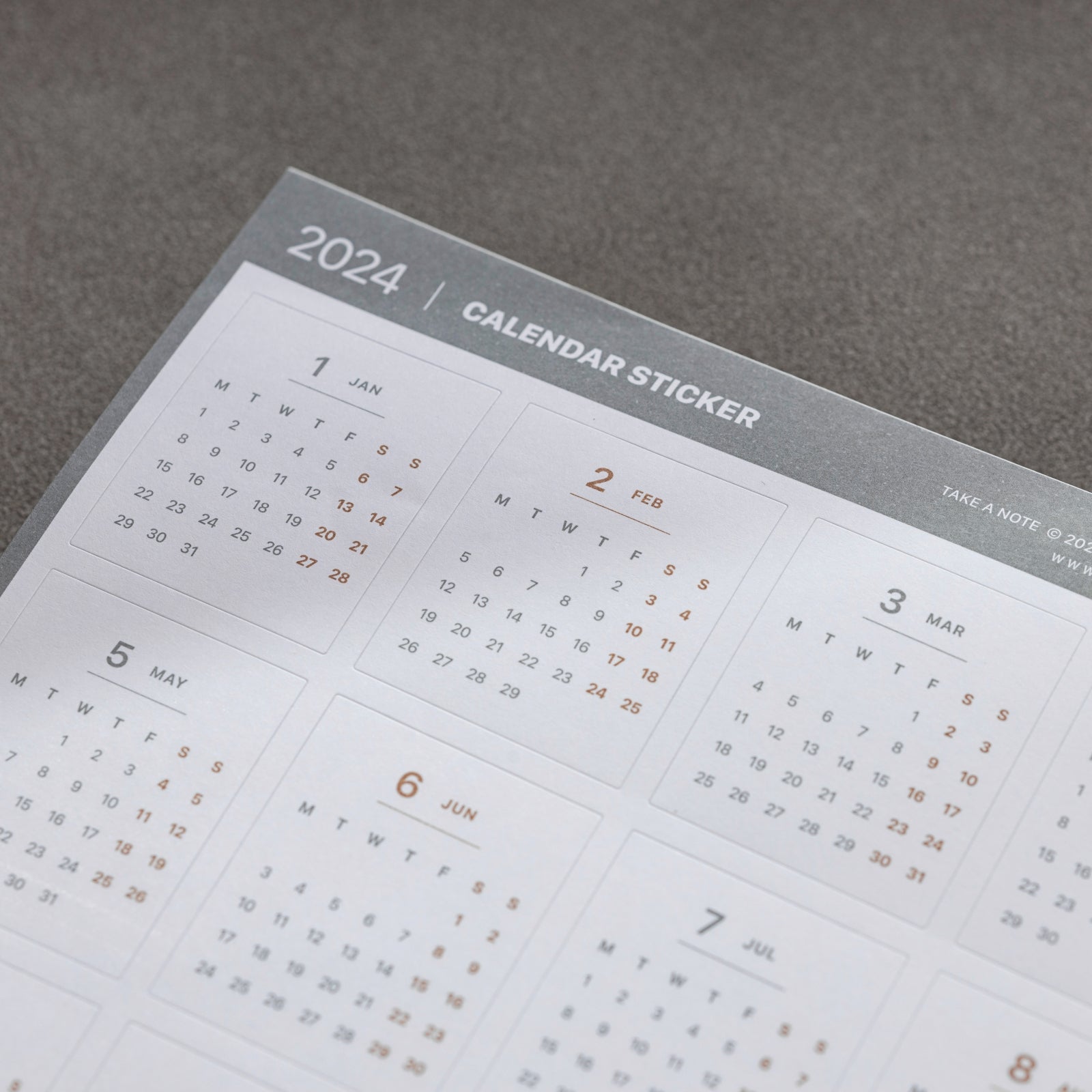 2024 Calendar Sticker (2 sheets)
---
12/01-12/25 Holiday Season
Spend over NTD600 to qualify for a chance to win exclusive prizes!
EVENT PAGE>>
SPEC: B6, 2 sheets|Material: Paper Sticker
台灣地區訂單滿1000元免運(免運門檻即將於預購結束後調漲,敬請把握機會)

若預購品與現貨商品同時結帳將視為預購訂單,待預購商品到貨後一併寄出,若現貨商品有急需,建議與預購商品分開訂購。

Overseas Territories: Products are shipped from Taiwan. We offer shipping methods such as UPS, EMS, E-Packet, etc. Shipping fees will be automatically calculated based on the weight of the items. You can estimate your order's shipping cost on the Cart Page.

[IMPORTANT] Import Duties and Taxes

CUSTOM FEES MAY APPLY
Depending on your country, you may be required to pay customs fees when importing your order from Taiwan. This charge is from your local government, so customers are responsible for paying these fees. 
Customized for your TAKE A NOTE journal and designed for those who love recording life and planning schedules.

Our calendar stickers and monthly dividers are designed to help you mark and record time in bullet journals or other undated notes.

The monthly dividers feature two distinct designs for single and double months, harmonizing with the color scheme of TAKE A NOTE's MEDIUM WEEKS planner. Dual-color printing ensures vibrant sticker colors and showcases our commitment to quality.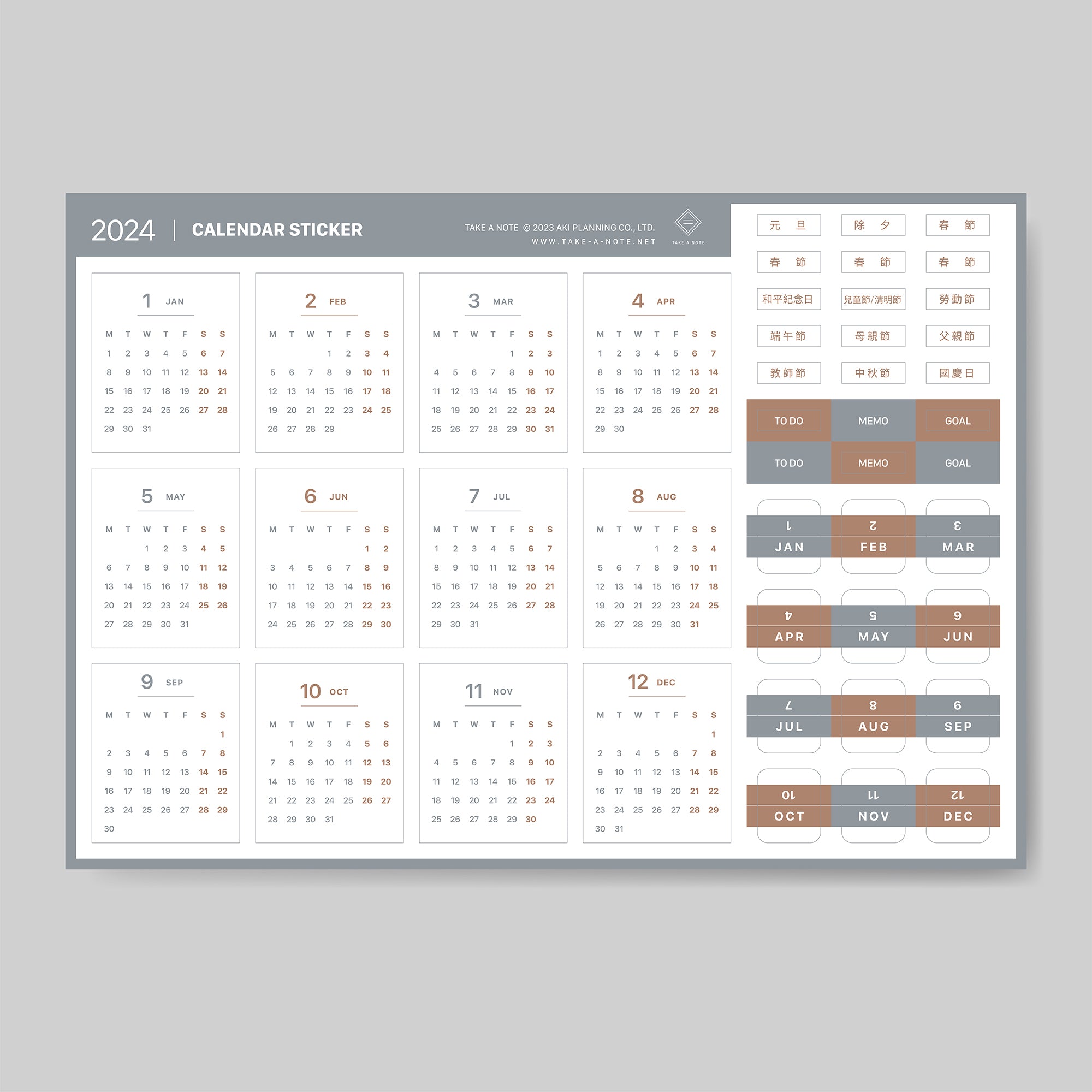 2024 Calendar Sticker (2 sheets)
Sale price
$60.00 TWD
Regular price
$80.00 TWD
Choose options